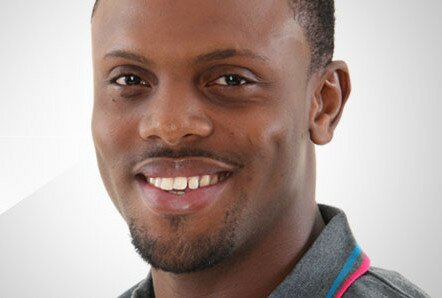 Melvin was the choice biNu smartphone app users across Africa.
Big Brother Africa housemate Melvin has been predicted to win the eighth season of the Africa-wide contest showing on DSTV, according to a survey carried out by the biNu cloud-based smartphone app.
The biNu community were asked questions, via the app's survey platform, on how they get updates on the show, how they vote and who they expect to win.
In the infographic made available to HumanIPO, the results of the survey revealed 23 per cent of respondents said they expect Melvin to win the competition, giving the Nigerian housemate a 1 per cent lead over Angelo (South Africa) and Beverly (Nigeria), both of which had 22 per cent.
The survey also revealed that SMS is the preferred means of voting as 49 per cent of respondents said use that method, while 42 per cent said they vote via the competition's mobile website and only 9 per cent vote using desktop websites.
Sixty-six per cent of respondents (4,830) believe the Diamond Team would win the competition rather than the Ruby Team which only got 1,631 votes.
In all, more than 6,000 respondents participated in the survey from 14 African countries including Namibia (38 per cent), Ethiopia (25 per cent), Zimbabwe (20 per cent) and South Africa (5 per cent).
"The majority of respondents were male, 56 per cent were aged between 18-24 years old and just over half got their updates from their mobile phones," biNu said in a statement.
"There have been a few controversies this year with one contestant, Nando, being disqualified for threatening another housemate. Interestingly though, just over 50 per cent were happy that he was booted off."