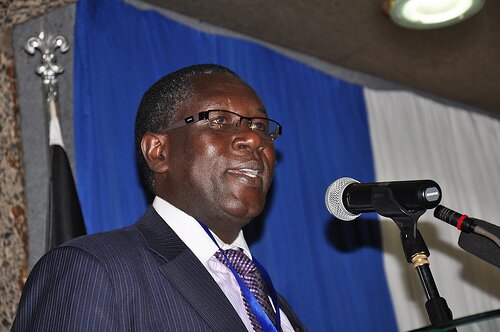 CCK Director General Francis Wangusi CC image courtesy of chimgimode2007 on Flickr
The Communications Commission of Kenya (CCK) is contemplating further cuts to the mobile termination rates (MTR) through a fresh cost study of the mobile market.
The regulator said it is reviewing the previously model plans in light of recent economic changes.
Speaking to HumanIPO, a regulator official, who asked not to be named, said: "The regulator is actually in the process of replacing the current model that will see a new glide path adopted – one which reflects the position of the economy.
"We are not able to say exactly at this point the the exact date in which the new rates will be announced but the director general, Francis Wangusi, will communicate adequately when the date has been established."
The new announcement comes barely a month after the CCK implemented a 20 per cent cut on the rate mobile phone operators charge each other for connecting calls from outside their network.
The changes which were effected on August 1, saw operators charged KSh1.15 a minute to terminate calls on other networks.
The MTR has been on a scheduled glide path which had seen it slide from KSh4.42 in 2009 to KSh2.21 in 2010 to Sh1.44 last year.
The plan is to eventually cut the rate to 99 cents by 2014 in a bid to make mobile communications as affordable as possible.
Safaricom and Orange Kenya have been opposing any further reduction in MTR on grounds that further rate reduction does not match the reality of the costs the operators incur.
Airtel and Essar's Yu Telecom, however, have been in support of the regulator's plan to cut the rate to the lowest possible in order to use the low cost pricing to attract subscribers.
The CCK commissioned the Kenya Institute for Public Policy to perform a cost study to establish if further cuts will affect the economy in which the institution found no adverse impact.