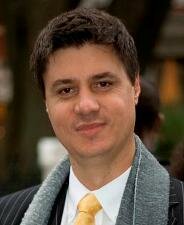 Shadow minister of transport Ian Ollis (Image courtesy of the Democratic Alliance)
South African opposition party the Democratic Alliance (DA) has branded the South African National Roads Agency Limited's (SANRAL) e-tolling advertising budget a "disgrace".
The latest criticism of SANRAL's advertising spend comes after a reply to a DA parliamentary question revealed the state-owned company had budgeted ZAR85 million (US$8.3 million) for advertising related to the e-toll system in Gauteng.
"Sanral's stubborn determination to continue with these campaigns is a disgrace," said DA shadow transport minister Ian Ollis. "The public have made their opposition to the project heard. No amount of spin will change this."
HumanIPO reported last month Ollis had called SANRAL's advertising "propaganda", after replies to parliamentary questions revealed costs of e-tolling had increased almost 200 per cent in the last two years, with advertising expenditure increasing from ZAR30.4 million (US$ 3.022 million) in 2010 to ZAR84.5 million (US$8.4 million) in 2012/2013.
The Opposition to Urban Tolling Alliance (OUTA) has also expressed its dissatisfaction with the spending, calling it a "shocking waste of time".
The latest advertising budget will be spent on both alternative sources of funding campaigns as well as corporate campaigns.
"E-tolling will serve no benefit to the people of the Province, and will hit the poorest the hardest by increasing the price of doing business, resulting in food price increases and inevitably undermining economic growth and job creation," said Ollis.
SANRAL's advertising spending is despite the company saying in July it was running out of money.
"SANRAL has almost totally depleted its available cash. We're not able to fund ourselves any further, due to investors not feeling comfortable with our risk profile," Bloomberg quoted Vusi Mona, spokesperson for SANRAL, as saying.