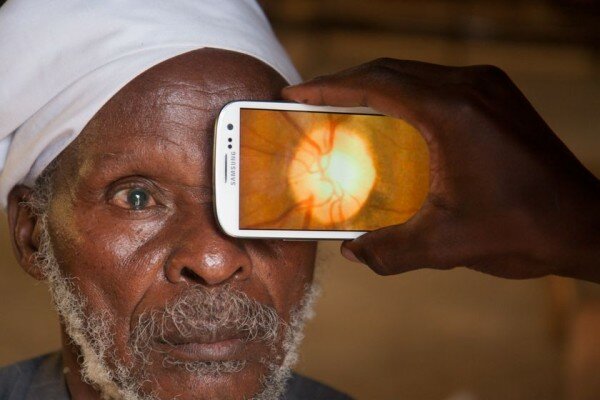 © Peek
A smartphone-based eye application that transforms a low-cost Android smartphone into an eye examination and diagnostic kit will be tested in Kenya, the first African destination in which the app will debut.
The team behind the Portable Eye Examination Kit (Peek) app told HumanIPO it carries out a full range of ophthalmic diagnostic tests in very remote settings, as well as being able to run visualisations of the back of the eye.
Currently, a team led by Dr Andrew Bastawrous is testing the app on 5,000 people in 100 locations across the Rift Valley, where they will also seek to compare the user friendly, affordable Peek system against the state-of –the–art hospital equipment, which costs more than £100,000 and requires a team of 15 trained personnel to operate.
"When people work to improve healthcare, they often look at the latest developments in healthcare to improve from within. We are taking an alternative approach by looking at different industries to utilize what already exists elsewhere," said Bastawrous.
"If Peek lives up to it's potential we hope people around the world can benefit. And with the fast-paced advances in mobile technology, this innovation will continue to get better and better automatically as mobile phones improve."
Research reveals that 285 million people worldwide are visually impaired and 39 million of these people are blind. Ninety per cent of blind people live in low-income countries, while 80 per cent is avoidable.
In the areas of greatest need, patients do not have access to diagnostics or treatment, and in developing countries more people have access to mobile phones than running water.
Driven by the above statistics and the need to assess the levels and causes of blindness to help make long term plans for capacity building, the team consisting of ophthalmologists and independent app designer came together to create the mobile app.
"It is easy to use, affordable and portable. One non-expert with minimal training can use Peek to gather detailed clinical information. Images are graded and patients diagnosed, either through an automated process, or via cascading of digital images to a network of experts around the world," said the Peek team.
The system stores contact information and GPS data for each patient, while Google Maps integration makes it possible to follow-up and treat patients. The technology also allows coordination of services to target mass treatment campaigns at regions of greatest need.
Peek can diagnose blindness, visual impairment, cataracts, glaucoma, macular degeneration, diabetic retinopathy and other retinal and optic nerve diseases and crucial indicators of brain tumour and haemorrhage.
So far the system has been tested on over 500 patients in Kenya with encouraging results, and both the camera and the mobile app continue to be refined based on feedback from these field trials.
The results of the study are expected in early 2014 and the next steps for Peek are further research to test and develop the software and hardware, and work to make the system available to market.
The team projects that Peek will be a valuable tool in high-income countries – increasing the potential for ophthalmic examination beyond dedicated eye clinics, for example in general practice.