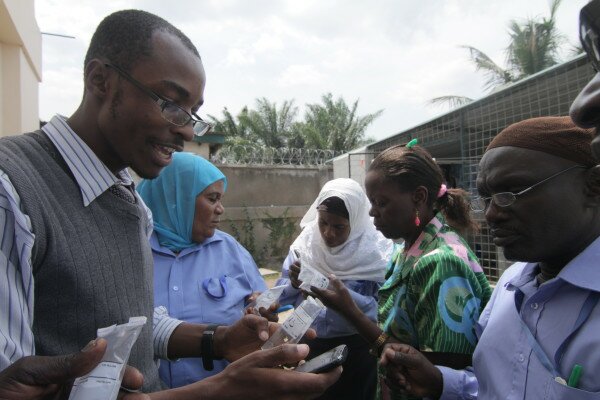 The United States Agency for International Development (USAID) has invested US$100,000 in US startup mWater, which ensures people in developing countries have safe water for drinking by using a mobile app and is currently operating in Tanzania.
With the funding, it will be possible for the startup to partner with stakeholders in Mwanza, Tanzania, such as the Mwanza Urban Sewerage and Water Authority and the Mwanza City Council to establish a supply chain for the test equipment used with the app and implement the mobile-based water monitoring system.
The nine-month project will have local health and utility workers use mWater's flagship app and water testing kit, costing US$5 per kit, to test drinking water for contamination.
This project will help nearly 90,000 people in two pilot wards to locate safe water and identify dangerous water sources.
Speaking to HumanIPO, mWater's chief executive officer (CEO) Anne Feighery, said: "In Tanzania, more individuals have access to mobile phones than access to safe water sources. Phones therefore provide a way of creating cheaper infrastructure for monitoring water."
The same sentiments were echoed by USAID, which said that the mobile technology used by mWater as well as its open way of sharing information would simplify the work of quality water testing and let people easily find the safest water sources close to them.
Being open sourced, other governments and organisations can use the platform to chip in with information to help in identifying safe water and help curb incidents of diarrhea from contaminated water, which is said to result in 1.5 million deaths each year in children under the age of five.
According to USAID, mWater is also helping the government of Mwanza acquire low-cost water tests.
mWater's mobile app uses the onboard cameras on mobile phones to automatically detect colonies of coliform and E. Coli bacteria that are grown on test plates from water samples.
The water quality data that is collected is instantly analysed and shared with local communities through a mapped database of water sources.
The investment by USAID has already started bearing fruit as mWater is announcing the public release of an upgraded version of the mobile app which includes mobile surveys that can be used by community health workers to inspect the sanitary condition of a water source, update the functional status and add notes about the price or reliability of water.
By the end of the USAID-funded project, mWater's big data approach will allow automated text messages to be sent to water users, suggesting safer sources nearby or providing instructions for disinfecting their drinking water.
mWater also held a two-day workshop in Mwanza to sensitise the public on how to use their smartphones with the mWater application, with Feighery saying the exercise was successful.
mWater's preliminary work testing over 100 water sources in Mwanza, Tanzania's second largest city and one of the fastest growing urban centers in East Africa, found fecal contamination in 90 per cent of shallow dug wells and springs.
Many of these sources were only a short distance from safer piped water kiosks. In a baseline survey, mWater found water users choose from up to three water sources each day.
The organisation believes that more information about the safety of water sources will encourage people to make safer water choices.
As mWater continues to pick up in Mwanza, there are plans to scale the monitoring programme to other parts of the country and Feighery said their main focus will be in the rural areas as that is where there is greatest need for safe drinking water.
From Tanzania, the next destination will be Rwanda, followed by Ethiopia and mWater is already in talks with the Ministry of Health in Rwanda.
"In Rwanda, certain health personnel known as Environmental Health officers are dedicated to water safety and already checking water sources using their equipment and reporting about them by writing it down," said Feighery.
"We want to remove the paper-based system as it would take months for the information to be reported, but the phone is real time and this helps to reduce the amount of time for information to be shared."
By creating a market-based solution that can exist on its own, mWater is part of an emerging alternative to the charity-based, top-down model of "aid".
When mWater begins new work in a country, it does not seek to establish a permanent presence.
"Our goal is to leave. We want to put ourselves out of business. We want to create the capacity so that this can exist without us here," said Feighery.
As mWater expands its global database of information about contaminated water sources, anyone, anywhere in the world, can get information they need about water sources that might make them sick.