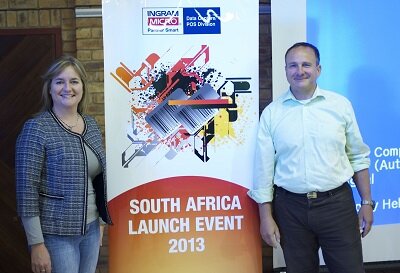 Alison Ekland and Ernesto Schmutter. Image supplied.
Motorola Solutions has appointed Ingram Micro's data capture and point of sale (DC/POS) division as its mobile enterprise solutions distributor in South Africa.
According to Alison Ekland, distribution account manager of Motorola Solutions Africa Enterprise, the latest acquisition of Brightpoint by Ingram Micro presents an opportunity in gaining deeper customer reach and relationships with network operators, key vendors and mobile virtual network operators.
"Our partnership with Ingram will bring new distribution channels and a new set of resellers, in a market rich with potential," said Ekland.
Ernesto Schmutter, senior director of DC/POS for Ingram Micro in the Europe, Middle East and Africa (EMEA) region, said both the training and support Ingram Micro offers will further serve in boosting Motorola Solutions' market share in the region.
"As a Motorola Solutions Authorised Training Centre (ATC), Ingram Micro will be in a position to begin reseller training from later this month. This will bring the international courses to South Africa for the first time," said Schmutter.
Schmutter added Ingram Micro is also focusing on expanding its presence to other countries in Africa.
According to Motorola Solutions, the move with Ingram Micro was made due to the increasing interest in mobile enterprise solutions "among all key verticals across Africa".
"Motorola's Enterprise Mobility Solutions are able to increase productivity, reduce costs and automate manual processes. The array of products is applicable across many verticals, and is expected to boost the local (South African) market," Motorola Solutions said in a statement.