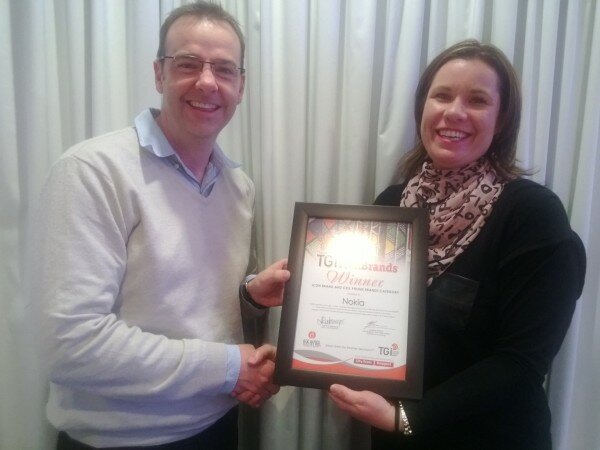 Nokia South East Africa marketing head Justin Maier receives TGI TopBrands award. Image courtesy of Nokia.
Nokia South Africa has been voted the best mobile phone brand, making it one of the most highly rated brands in the country.
The Sunday Times Top Brands survey questioned South African adults in various areas and focused on spontaneous awareness, aspiration and affection of users towards a brand.
Gerard Brandjes, vice president for Nokia in South and East Africa, said: "Top Brands is the leading survey in the country so we always wait anxiously for these results to come out.
"Again, not only did we come out on top, but we extended the lead over some ferocious competitors."
Nokia is also the fifth most liked brand among all South African trademarks.
"This is a tremendous honour, and an incredible responsibility. One that we need to take seriously," Brandjes said.
The mobile company also achieved Icon Brand status at the 2013 TGI IconBrand awards presented by South African news publications Rapport and City Press, qualifying with 15,000 consumers.