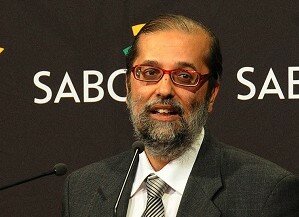 Yunus Carrim. CC image courtesy of GovernmentZA on Flickr.
In terms of broadband accessibility South Africa has been overtaken by competitors of a similar socio-economic status, according to communications minister Yunus Carrim.
Carrim made the comments while participating in a Q&A on the Mail & Guardian's YouTube channel.
Among a number of questions, Carrim was asked what was being done to make broadband more affordable and accessible in the country.
The minister said a broadband policy plan was in its early stages and he hoped to present it to cabinet by the end of November.
"We are acutely aware that if we get ICT more effective, opportunities are created for jobs", he said.
Carrim also said his department was consulting with telecoms companies on reducing mobile airtime costs but said the public needed to be more engaged to make an impact on this issue.
He added: "Consumers must also apply pressure… take to the streets if you like – that's what a democracy is about – on the issue of the costs of communicating. We as government are saying we agree, but we are bound by market forces."
Carrim encouraged viewers to contact the Department of Communications (DoC) with suggestions regarding telecommunications policy.