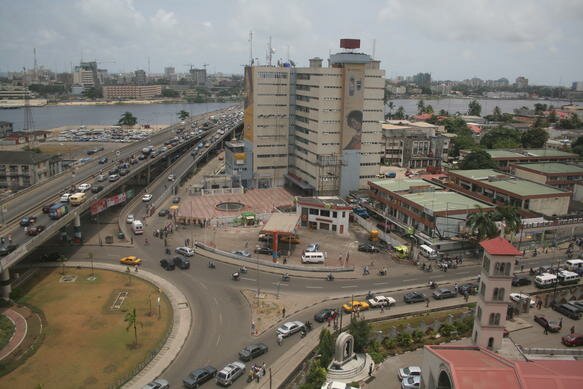 Lagos. CC image courtesy of Ulf Ryttgens.
The Lagos Metropolitan Area Authority (LAMATA), operators of the popular Lagos BRT buses, officially joined Facebook last week, the latest move by the authority aimed at making its services more easily accessible to residents.
HumanIPO spoke to Charles Edosomwan, a senior media executive at LAMATA, on the authority's various deployments of technological tools in easing transport services in Lagos state.
HumanIPO: Why is Lagos Metropolitan Area Transport Authority (LAMATA) just joining Facebook now?
Edosomwan: For the development plan of the authority, we are at the phase where we are engaging the general public through the social media platform.
What kind of services could residents of Lagos state access through the Facebook platform?
Via the Facebook page, you can basically get any resource materials you want, you can also ask any questions.
If you have complains about BRT bus links, the Ikorodu-Mile 12, if you have any complains, why not? We are positioning it as an online resource center. And through it, it is easier for us to cover Lagos area.
We also drive traffic from our TV programme (LAMATA half hour) to the page in case people want to ask questions.
Several weeks ago, the authority unveiled LagosConnect Card on BRT buses. What are the benefits of the card?
If you go to some of the bus stations you will see the banners there that you can recharge your LagosConnect Card.
It's to curb the issue of flat rates on the buses. You know BRT buses have two different prices based on the distance of your journey. If you are going to a short distance, it is NGN70 and if you are going to a long distance it is NGN120.
But with the card, if you are from Ojota to Maryland, you don't have to pay NGN70. With the card, you can pay as low as NGN20. You can get and load the card at the bus stations.
On which routes can Lagosians use the card because there are several stations (such as the Berger, Victoria Island and Obalende Bus Stations) that are not yet offering the card service?
For now, it's fully functional on the Ikorodu-Mile12-CMS route.
What has been the level of acceptance among Lagos residents?
As evident on the Facebook page, the level of acceptance has been very high and a lot of Lagos residents are using the service.
When we went on a road show to assess the level of acceptance of the service, we spoke to lots of people so that we won't just rely on data. A lot of people we spoke to said they prefer the service. A lot of Lagosians are using it.
To ensure active engagement of residents, we put up trivia questions and we recently gave out free cards to winners and we are getting good feedback from them.