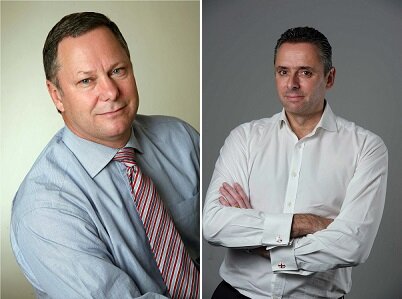 Christo Briedenhann and Paul Coates. Images supplied.
United States-based Riverbed Technology, a global application performance company, has announced a significant milestone following the integration of OPNET Technologies and Riverbed Cascade.
The milestone came with the introduction of Riverbed's single appliance with integrated application aware network performance management (aaNMP) as well as application performance management.
This is described as a single solution, which provides end-to-end performance management from "deep dive packet and network analysis" to application transactions and end user experience.
This means Riverbed's customers now have a single solution, which will assist them in maximising the availability, performance and the productivity of their critical applications.
Speaking to HumanIPO, Paul Coates, regional vice president for Riverbed with leadership responsibilities encompassing the United Kingdom (UK), Ireland, South Africa and the Nordics, said Riverbed is specifically dealing with investing in South Africa and the rest of Africa due to the lack of availability in good quality infrastructure and the costs involved.
"Riverbed has just passed its tenth birthday as an organisation… We've grown extremely rapidly globally and we have also just passed the US$1 billion annual turnover mark," said Coates.
The OPNET Technologies acquisition, which was completed for just under US$1 billion, Coates said Riverbed is now a substantial company with 2,700 employees worldwide.
Coates said in situations of a lot of latency and high bandwidth usage, the implementation of the technology by Riverbed will result in a reduction in the requirement for bandwidth by taking duplicate data off the network.
This reduction in requirement can be as much as up to 80 per cent, which translates to a lot of money being saved for the company using Riverbed's technology.
Coates said Riverbed also "accelerates" user experience.
"Over the last 10 years we have been developing what we call the performance platform," said Coates.
"Large organisations are typically very complex in IT infrastructure and applications, we enable organisations to obtain full visibility in management and control of their infrastructure and applications and the ability to optimise and accelerate anything within that infrastructure."
Coates said Riverbed's full suite of technologies can be identified in "two broad areas," one of which is described as visibility management and control, and the other is a wide range of optimisation technologies.
Christo Briedenhann, country manager for Riverbed Africa, said the company was established in South Africa seven years ago, with a presence throughout sub-saharan Africa, including countries including Kenya, Namibia, Botswana and Mozambique.
"When we opened up seven years ago, we decided to focus primarily on South Africa. Our approach to take our technology to market is: We've identified key local resellers, companies like Dimension Data, Data Centrix [and] Networks Unlimited…" said Briedenhann, who added the partners were appointed because Riverbed in South Africa does not sell direct.
Briedenhann said the South African environment faces challenges such as a lack of skills.
"With Riverbed Technology… we optimise and accelerate applications with a wide area network," said Briedenhann.
Briedenhann said the second problem faced in South Africa is the fact that telecommunications operators in the country are among the most expensive in the world.
Also, the operators' services are just not available in certain areas, which means people have to rely on satellites or third generation (3G) connectivity.
He said the benefit offered by Riverbed is: "We cut the cost that they are paying to telcos and at the same time we accelerate the applications."
In a rural environment people have to walk vast distances to find an ATM where they are met with lengthy queues. This is also applicable to a retail environment with tills.
Briedenhann said this is where Riverbed's acceleration of applications comes in handy because it can process more people faster, which also translates to an increase in revenue.
"Riverbed Technology fits the South African environment extremely well… We today have hundreds of customers… in all the vertical markets, most of the big mines, with most of the big banks, [in] the government sector."