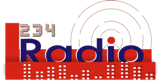 234Radio, a cross platform internet radio station, has been launched in Nigeria, airing entertainment content from the West African country, the United States, Jamaica and the United Kingdom.
Kayode Yeye, founder of the digital station, said widely known disc jockey O-Kay would be among its presenters and added: "234Radio brings you the listening experience of a lifetime.
"Yours will be a story of complete relaxation and entertainment as you talk, walk, eat and sleep 234Radio's uninterrupted live streaming anytime and anywhere."
He said the station's playlist would include alternative music, blues, classical, country, electronic, hip hop, jazz and afro beats.