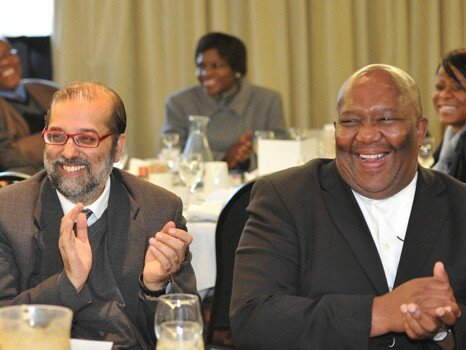 SA communications minister Yunus Carrim (left)
There have been too many delays to the creation of South Africa's broadband policy, according to the country's latest minister for communications Yunus Carrim, and government and industry must work together in order for the country to reap the economic and social benefits of broadband.
Speaking at the Southern Africa Telecommunication Networks and Applications Conference (SATNAC) 2013 in Stellenbosch today, Carrim told attendees the government has been responsible for the slow pace of progress within the IT sector in South Africa, adding that this must be changed.
However, government and industry must collaborate to achieve progress within the sector, to enable South Africa to enjoy the potential benefits of extensive broadband penetration, Carrim said.
"The economic and social benefits of broadband are more likely to be realised if government and industry work together," Carrim said.
"Government can't do this alone," Carrim continued. "For all the challenges, government has made progress since 1994. We could have done more, but there has been progress."
Carrim urged industry figures to engage with government, and noted the reasons behind the "outdated" pricing of communications in South Africa is serious issues which must be addressed as a factor which "blocks access" to broadband.
"We need further engagement on this," Carrim said.