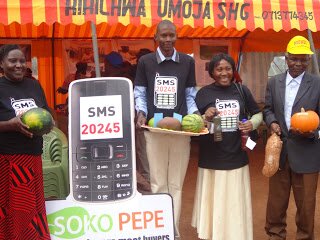 International NGO Arid Lands Information Network (ALIN) has launched an SMS marketing tool Kenya seeking to help farmers access information concerning their markets.
Dubbed Sokopepe, the marketing system will enable Kenyan farmers and other producers to meet buyers through their mobile phones.
The platform will see farmers send a short message to find out the price of their produce in any particular market, while in turn buyers can find out the prices of commodities in every part of the country by sending an SMS to 20245.
James Nguo, ALIN regional director, said the initiative is aimed at harnessing the power of ICT to enable farmers to obtain fair market prices for their produce.
He added that the technology will increase efficiency in the agricultural value chain, providing a platform for farmers to share information and execute electronic transactions.
The technology was launched in partnership with the Ford Foundation.
HumanIPO reported in June Kenyan telecom Safaricom had partnered with Green Dreams Limited to officially launch mobile application platform iCow, an SMS-based programme aimed at promoting smart dairy farming.
iCow is an agricultural information platform designed to help farmers increase their output, thereby boosting profits.