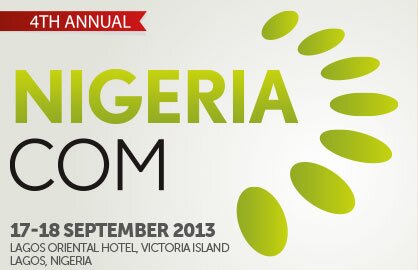 Organisers of the fourth NigeriaCom conference have announced the 2013 edition will feature mobile money and digital entertainment with new focus areas in line with evolution in the market.
Informa Telecoms and Media said it is bringing back the popular APP GIG, a series of dedicated workshops and interactive sessions that will enable Nigerian developers to find out about innovative business models, interesting development ideas, related technologies and new trends in the ecosystem.
"We continue to innovate to bring players the most timely and relevant analyses, case studies and discussions," Informa said.
"This year [we are] including areas such as cloud services, digital entertainment and mobile money as well as the ever-evolving network and connectivity and customer experience management spheres."
Confirmed speakers include Vytautas Paukštys, co-founder and chief executive officer (CEO) of Eskimi, Femi Taiwo, manager of the Google Developer Group (GDG) Lagos Chapter and Bayo Adekanmbi, general manager of business intelligence at MTN Group.
"The two-day, strategic conference is designed to deliver you market insight, practical solutions and best practice benchmarks that are transferable back in the office so you can grow your business," the organisers said.
"The agenda is a mixture of presentations, case studies, interactive panel sessions and Q&A slots to ensure you can gain as much as possible from the two days."
NigeriaCom 2013 is taking place on September 17 and 18 at Lagos Oriental Hotel, Victoria Island, Lagos. It will feature more than 40 speakers and more than 700 attendees.
Etisalat Nigeria is the headline and host operator sponsor of the conference and according to Enitan Denloye, director of brands and communication at Etisalat, the company supports the quality of service theme of the conference.
"As part of this year's edition, the fourth in Lagos, Etisalat would champion the theme 'Quality of Service on the Network: Challenges & Opportunities for Telecoms Operators in Nigeria.' with a keynote panel debate," Denloye said.
"Together we will create sustainable strategies for transforming the telecommunications industry. Etisalat recognises its role in shining a spotlight on service improvement and expansion platforms in Nigeria. Nigeria is Africa's largest telecoms market, and represents 15 per cent of the continent's subscriptions in the first quarter of this year."