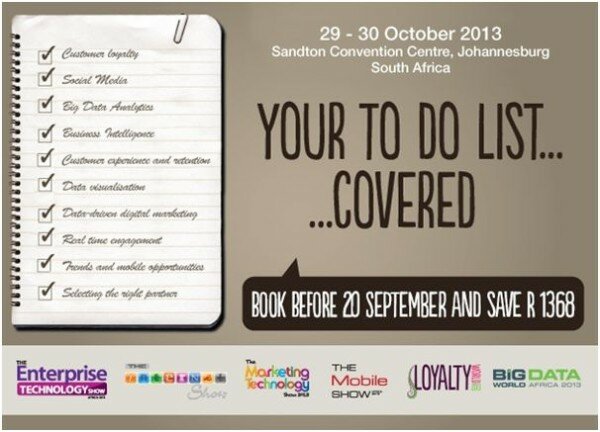 Top executives from digital marketing, commerce and enterprise will convene in Johannesburg from October 29 to 30, for the Enterprise Technology Show Africa.
The event, held at the Sandton Convention Centre, aims to allow participants to learn, showcase and find solutions for innovation.
The Enterprise Technology Show, which is seeking to become the leading marketplace and ideas exchange for business IT innovations in Africa, is co-located with The Internet Show, The Marketing Technology Show, The Mobile Show, Loyalty World and Big Data Africa.
"The show provides a platform where you can do more business and get more exposure: face-to-face with key customers and prospects," said Wayne Harris, the show's business development manager.
"We have a dedicated networking manager that will do all the work for you when it comes to setting up meetings.
"The focus of the show comprises of executives discussing investment and development, as well as challenges and opportunities within the aforementioned sector."
Other objectives of the show will be to meet with potential customers looking to roll out communication networks in Africa and grow their customer base.
The six co-located event will address current and future challenges for all major stakeholders within the African digital marketing and enterprise sector.