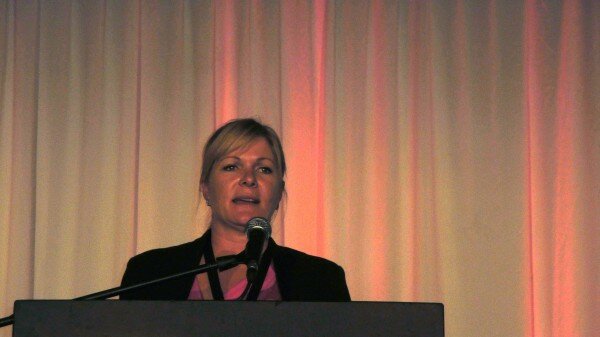 Juanita Clark, co-founder and chief executive officer (CEO) of the FTTH Council Africa.
The Fibre to the Home (FTTH) Council Africa feels apathy with regards to fibre issues is problematic in South Africa, with a lack of awareness hindering progress.
Juanita Clark, co-founder and chief executive officer (CEO) of the FTTH Council Africa, spoke about the progress of fibre optic deployments in Africa at the Internet Service Providers' Association (ISPA) iWeek conference yesterday.
"In South Africa there is a massive apathy towards the benefits of fibre," Clark said, saying the lack of content to inform people on the differences is to blame.
She said there was a need for stakeholders and civil society to engage more actively to promote the progress of the industry.
There is however improvement from the side of businesses, whose queries indicate the realisation of fibre value, though homeowners are still difficult to engage with.
"Until the benefits are understood, we will fall further and further behind rest of Africa," Clark said.
International stakeholders struggle to understand why African deployment is happening so slowly because the continent is challenged differently in terms of border issues and other related obstacles.
On national progression of fibre optic deployment, a current project is in the process of equipping 11,000 homes with networks.
Access fibre is still experienced as the greatest issue with interconnected challenges on operator, bandwidth and content levels.
"In the meantime, the industry is slowing down," Clark said.
Clark feels there is still a big lack of sufficient skills and training in the industry.
Negotiation with stakeholders on government and municipal level is a "constant battle" in the council's application for approval regarding project implementations.
"In an 'unregulatory' environment it is very difficult to be very clear of the different levels of the infrastructure," Clark said.
The council has worked closely with the Independent Communications Authority of South Africa (ICASA) to set up a framework regarding rules and procedures for the deployment of telecommunication infrastructure process for approval.
She explained the importance of laying a foundation guiding the industry to deploy fibre networks according to a fixed standard.
As the government is not providing any funding, private financial support is drawn upon to complete national migration.
The progressive establishment of sea cables is considered a great help in the fibre industry in connecting Africa to the rest of the world.