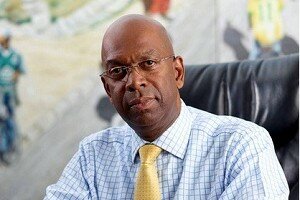 Bob Collymore, CEO Safaricom. CC image courtesy of Albert Kenyani Inima on Flickr
Bob Collymore, Safaricom chief executive officer (CEO), has urged governments to consider easing taxes levied on mobile operators within the region in order to put an end to high roaming charges.
This, Collymore said, will be the first step in addressing a matter which has greatly hampered growth of trade within the East African region.
"If you go to Uganda whatever the operators charge you is what Safaricom will charge you," Collymore said.
"What is worrying, a number of East African country's government have started to put a tax on it.
"The governments are the ones contributing to increase in costs of roaming. Governments need to take a responsible approach, they need to be less rapacious about taxing this industry."
Last year Safaricom reviewed its rates to partner networks by introducing roaming charges for receiving calls through its partner networks in the East African Community (EAC), with receivers from MTN Rwanda hardest hit with KSh28 per minute charges.
The new announcement by Collymore comes days after Fred Matiangi, Kenya's ICT cabinet secretary, called on African mobile networks to lower their roaming charges for international calls, arguing the current rates are prohibitive.
Matiangi said some of the operators are charging unrealistic rates, which are affecting regional integration within East Africa.
"I want to ask mobile phone operators across the continent if you want to increase intra Africa trade, roaming charges are critical aspect of that, they at the moment prohibitive," Matiangi said.