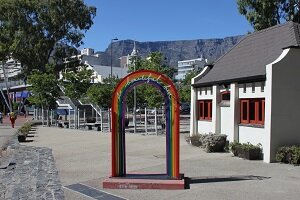 St Andrew's Square. Image supplied
Free and unlimited Wi-Fi has been launched at St Andrew's Square in Green Point, Cape Town, an initiative by the Green Point City Improvement District (GPCID) in collaboration with the City of Cape Town.
The unlimited Wi-Fi was launched on September 12 and is aimed at locals and visitors to the area.
"We are constantly looking for ways to make Green Point a more accessible and attractive place to live, work, and play, so it's wonderful to have the free Wi-Fi up and running," said Marc Truss, chief executive officer (CEO) of the GPCID.
According to a statement by the GPCID, Green Point has become a hub of activity, especially after the creation of the "fan walk" for the 2010 FIFA World Cup, and it is believed free and unlimited Wi-Fi will add to the area's appeal.
When in St Andrew's Square, the free Wi-Fi can be accessed through selecting "GreenPointCID-FreeWi-Fi" from list of available Wi-Fi hotspots in the area.
SA Computers set up the Wi-Fi in St Andrew's Square.
"This is truly a free Wi-Fi service with no strings attached. No registration, no credit card details. Just lie back on the grass and enjoy being online and connected," said David Szivos, managing director of SA Computers.
"SA Computers is very proud to be part of this initiative, hopefully with more to follow in the near future."
During the course of the last decade the GPCID worked with the City of Cape Town and other entities to bring about a "welcoming space" in the area.
HumanIPO reported in July free Wi-Fi was now available at hotspots around the Company Gardens area of Cape Town.