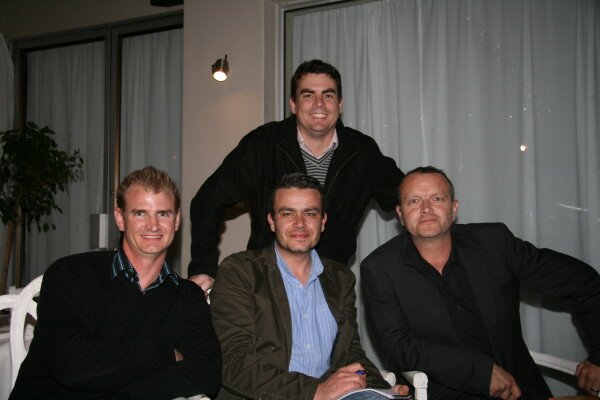 Digital mobility leads at Digital Deloitte Neil Aves, Jacques Millard, Justin Hartman and director Tim Bishop. Image courtesy of Girl Geek Dinners Cape Town (GGDCPT).
Deloitte Digital is providing data solutions to companies across the board by relying on both technology and creativity to continue market-leading solutions.
Recently awarded the MTN Business app of the year, Deloitte Digital told HumanIPO it owes its success to its superior quality of staff.
South Africans Tim Bishop, director at Deloitte Digital, and Justin Hartman, digital mobility lead, spoke to HumanIPO about their experience at the growing seven month-old company.
Both formerly positioned as executives at agencies, they firmly believe their new occupation is overtaking the role of agencies in the industry.
"Deloitte Digital is very high on technology, high on creativity, also high in business," Bishop said.
"The agencies just can't compete with us on creative technology [as] the combination of those three are formidable."
The multi-faceted solution helps businesses to make better sense of information in a time where big data is a trending buzz word.
"We are taking those clients, big corporates, for five years plus and being with them every step of the way," Hartman said.
With global scalability of access, Deloitte Digital sees itself as the leader in the industry.
Mobility is a big focus in Africa, with the focus on providing USSD and SMS solutions, especially in Kenya and Nigeria.
Responsibility is seen as the biggest challenge by both Hartman and Bishop with the brand name they represent to provide top solutions to the market.
"It is about taking real data and understand[ing] what that means, helping the company understand," Bishop said.
With big consultancy firms entering the scene with million dollars' worth of investment, the competition is increasing.
Explaining the app features, Neil Aves, lead of mobility at Deloitte Digital, said: "Usability and quick snap shots are just as important than where it is everywhere else."
Features include spider graphs, bubble charts, timelines and adjustable periods of measurement to daily breakdown customer segments, demographic movements, environment and replacing basic Microsoft Excel format used previously.
"It's about killing a pain point for companies and making it a pleasure point," Bishop said.
"So all this data that was buried in numbers is now visually accessible… it's scaleable and sustainable."