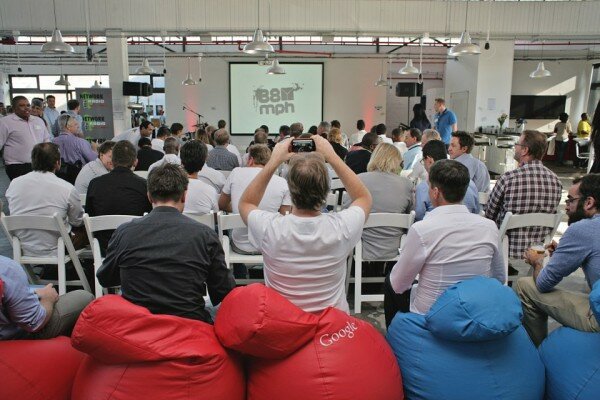 The 88mph 2012 Demo Day, held in Cape Town.
Accelerator and investment fund 88mph has opened applications for its second Cape Town programme, with applicants having the additional incentive of possible inclusion on the South African Broadcasting Corporation's (SABC) Rise Mzansi show.
Interested startups and entrepreneurs can apply now on the 88mph website, with applications for the next two weeks also being viewed by producers from the SABC show as they look for startups to pitch to investors on television.
88mph managing director (MD) Kresten Buch will be appearing on the show.
During the three-month accelerator programme, which begins on February 3, 2014, startups will receive mentoring, access to networks, technical infrastructure and workspace, in exchange for an equity stake. The programme culminates in a Demo Day where startups pitch for follow-on funding.
88mph's new programme manager for Cape Town Dan Bowyer, who will be sourcing potential investments and overseeing the existing portfolio, said a "state of excited anticipation" would remain until applications close on December 31.
"Africa is the continent of invention and we are front and centre, asking entrepreneurs to commit to their innovative business ideas that can make money and do great things. In return we are offering up to US$100k seed funding to get their idea off the ground," he said.
88mph ran its first programme in Cape Town between February and April this year, with participating startups including taxi calling service Zapacab, payment solutions specialists Peach Payments, tradesman platform Near A Builder, electricity monitoring company Homebug, video streaming service Wabona and Easy2Map's #mydoorhandle.
Its second accelerator programme in Nairobi, Kenya, is currently taking place, with 88mph having invested US$500,000 in eight startups chosen from more than 300 applications from around the world.
88mph was founded in 2011 by Danish investor Kresten Buch with the aim of supporting entrepreneurs from Sub-Saharan Africa to build products and businesses that positively impact business and consumers across the geographic and socio-economic spectrum.
The fund has invested more than US$2 million in three accelerator programmes in Nairobi and Cape Town.