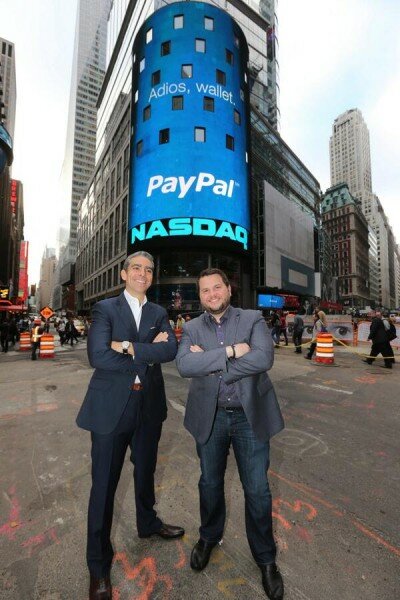 David Marcus, president at PayPal, and William Ready, co-CEO at Braintree. Image courtesy of PayPal.
eBay has revealed plans to purchase online payment platform Braintree, boosting PayPal's business.
The cash offer stands at US$800 million, aiming to secure Braintree as an addition to PayPal.
The deal is aimed at steering PayPal into the leading position for the online and mobile-focused startups market and support developers involved in the innovation of solutions for commerce businesses.
According to Bill Ready, chief executive officer (CEO) at Braintree, the platform will continue to serve as a separate service within PayPal with staff members staying in place.
John Donahoe, president and chief executive officer (CEO) at eBay said: "Bill Ready and his team add complementary talent and technology that we believe will help accelerate PayPal's global leadership in mobile payments."
David Marcus, president at PayPal, said PayPal was started in order to help entrepreneurs grow their online businesses.
"With this deal I believe that we will accelerate our capabilities for developers, entrepreneurs, merchants and companies that are building the future," Marcus said.
Braintree's alignment with the developer community, as well as Venmo, its mobile payment application, are both favourable additions to PayPal's existing mobile solution, which generated more than US$20 billion this year.
Ready said: "The alignment with PayPal means Braintree can continue to push the boundaries of innovation while expanding into new markets with increased speed and confidence."