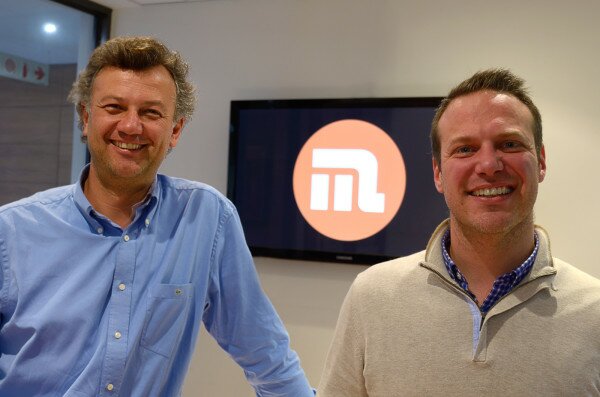 Michael Jordaan, newly appointed Mxit board of directors chairman and Francois Swart., CEO at Mxit. Image courtesy of Mxit.
Michael Jordaan, former First National Bank (FNB) chief executive officer (CEO), has joined South African chat app Mxit as chairman.
Jordaan said his decision to join Mxit was motivated by it being a South African success story and he would be proud to represent the company both nationally and internationally.
Also the recipient of the CNBC Africa Business Leader of the Year for Southern Africa award, Jordaan said he believes in the future of Mxit, especially regarding its planned smartphone projects with health care and education as central aspects.
"Mxit is a really cool company and has built some world-first innovations over the last eight years," Jordaan said.
The former CEO will take over the position of Robert Grobler, which will still serve as a board member.
"Michael's appointment is a great coup for us," Francois Swart, CEO of Mxit.
"I am sure he has been inundated with offers, and to become part of the Mxit team is a vindication of the direction we have taken and the innovation that is happening within Mxit."
Swart believes the company is on top form with more than 7.4 million users and a number of campaigns with brands of note such as Vodacom and BlackBerry, in addition to Mxit Launch affiliations with the Democratic Alliance (DA) and KFC, among other political parties and brands.
"Businesses and organisations are experiencing the power of Mxit as a way to reach consumers, resulting in record-breaking advertising revenues almost every month," Swart said.
Mxit shareholder Paul Harris also approves of Jordaan's appointment.
"Having a business heavyweight of Jordaan's calibre on the board of directors is no doubt a sign of great things to come from Mxit," he said.