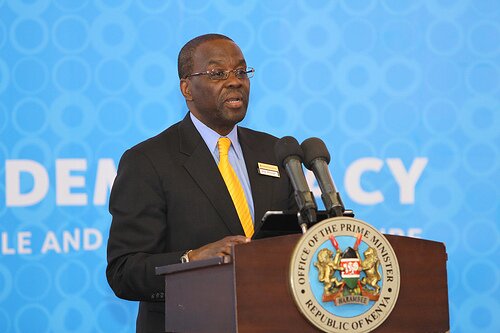 CC Image courtesy Ford-Foundation on Flickr
Willy Mutunga, Kenya's chief justice and president of the Supreme Court, has claimed his email and Twitter accounts have been hacked.
In a statement released by the Office of the Chief Justice, Mutunga said the judiciary has been grappling with the "vulnerability of its communication" which has amounted to hacking of email accounts, tapping of phones, secret taping of meetings and doctoring of documents.
On Friday, the Standard newspaper published an article which revealed a plan by members of the judiciary aiming to oust judiciary chief registrar Gladys Shollei.
In a detailed, six-page document titled "War Strategy: The 31-Point Plan", which the Standard uncovered, Mutunga is advised to remove Shollei in order to reassert his allegedly diminished role in the running of the Judiciary.
The article prompted the chief justice to issue his current statement, which however did not question the content of the email correspondence between the chief justice and his "War Council".
"The Judiciary leadership is determined to eliminate this surveillance culture by closing in on the small, cowardly and criminal enterprise that believes that it can violate official and private communication at will. Anyone who can hack an email can also doctor documents," reads statement.
Mutunga added that reports have been sent to the National Intelligence Service about people hacking into the chief justice's Twitter and email account in the past.
He declined to comment on the article in the Standard newspaper and said the statements published in a section of the media in reference to ongoing "investigations within the Judiciary will not draw comment for now".
"The Judiciary leadership is determined to conclude this matter in the right forum, and not to try any issue in the media." Mutunga said.
The new revelations of power struggle at Kenya's judiciary comes days after HumanIPO reported that Kenyan appellate judges had refused new offices over communication mast radiation fears.
Though the Communications Commission of Kenya (CCK) had declared the building safe, the judges still refused to move into the offices, with some sections of the media reporting it was a stand designed to frustrate the chief registrar.