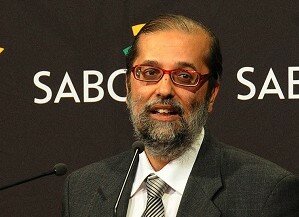 Yunus Carrim. CC image courtesy of GovernmentZA on Flickr.
South Africa's communications minister Yunus Carrim has told the broadcast industry to work with the government to speed up South Africa's delayed digital migration, which was meant to have been completed in November 2011.
Experts have said the delay in the migration from analogue to digital has hindered the South African economy, and Carrim used a business briefing today organised by the New Age and the South African Broadcasting Corporation (SABC) to call for the private sector to collaborate with government to make the migration a reality.
"What we need to know from the industry is that are we ready to go? Government is on course and we just want to put pressure on the relevant partners," he said.
"We brought all public broadcasters on board and told them to choose a facilitation team. We are in the midst of those negotiations and we are not moving as fast as we would like."
The South African government announced in August 2008 it would subsidise the price of set-top boxes, necessary to view digital television, for five million of the poorest South African television households.
As a result, the government focused on set-top box control, though this issue has proved controversial, with e.tv last year launching a court action against then-communications minister Dina Pule after she appointed state-owned Sentech to manage the decoder controls.
The case, which e.tv subsequently won, further delayed the digital migration process.
Carrim said the government's main concerns over the migration process were to protect the electronic industry and jobs.
"We also want to ensure that new entrants don't use any government subsidies to create pay TV on the one hand and also there are high levels of monopoly and concentration in the industry. We want to give space to the emerging entrepreneurs especially in the set top boxes (market)."
He said the 22-member ICT Policy Review Panel formed by Pule earlier this year would assess the policy for expanding South Africa's ICT sector.
"Let's ensure that this digital divide (focuses on) its positive aspects in reducing inequalities in our society … and its negative aspects of widening the gap is reduced. Help us and we will actually work hard to make this country be the great country it is and showed itself to be in 1994, 2010 and whole lot of other events," he said.