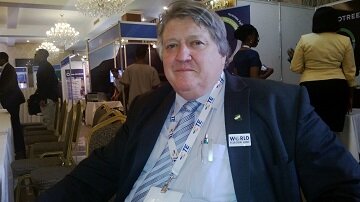 Leigh Smith. Image supplied.
Nigerians regularly experience call drops as a result of the lack of capacity of the various telecoms companies to support a high volume of calls, according to Leigh Smith, managing director of World Telecom Labs.
"When you are calling it cuts off over and over again. The reason for that is that there are too many calls for the capacity, it is the stark truth," Smith told HumanIPO.
He said Nigerian network operators were setting up new capacities but could achieve results more quickly by optimising existing capacities.
"They are building more capacity but they are not building it fast enough. It is easier if you can optimise the existing capacity, you can do it more quickly than setting up a new capacity," he said.
He said World Telecoms Labs is supporting voice communications in Nigeria with technology that supports Voice over IP (VoIP).
He said: "We have a number of offers, one of which is high capacity switching at full load. We also have our own VoIP where you can send high capacity traffic using 6kb per call whereas if you send it on TDM it is 64kb per call. Any congested network you save dramatically the capacity you need to send the traffic. This is really in big need here in Nigeria because all networks are congested.
"If we can be a factor in making existing technology more efficient, it means the existing users including myself will not have many calls cut off as we have now. Anywhere we have optimisation of the existing capacity, it means the amount of interruptions on the existing capacity would be lower."
Already, five out of six interconnect exchange operators in Nigeria have switched to the company's switches.
"It took a couple of years to get to know some people but we have recorded a good success by being selected by five out of the six interconnect exchanges," Smith said.
"They've looked at the technology closely and the hallmark is to switch from TDM to VoIP. We realize that the future will be VoIP but we can now do it today, something that some other suppliers are unable to do today."