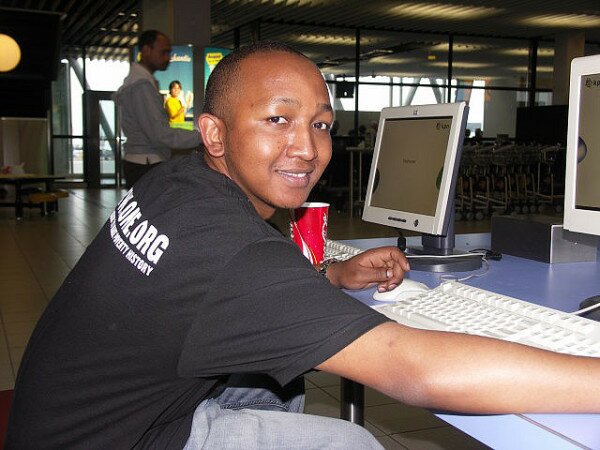 Andriankoto Ratozamanana, co-founder and chief executive officer at Habaka.
The Habaka Madagascar Innovation Hub will launch the HARIASA National Technology Innovation Contest tomorrow, looking to stimulate the creation of a startup ecosystem within the country.
The contest is a series of events taking place over a period of six months, incorporating Global Entreprenership Week Madagascar 2013, with the first 30 projects to participate at Innovation Prize for Africa 2014.
Habaka, an innovation hub founded in 2011 and registered as a non-profit in April this year, has partnered with the Interdisciplinary Department of Professional Training (DIFP) of the Faculty of Arts and Humanities at the University of Antananarivo, NGO Vahy and AIFEM (Alumni Institute Francophonie for Entrepreneurship in Madagascar), to launch the contest.
Andriankoto Ratozamanana, co-founder and chief executive officer at Habaka, told HumanIPO the aim of the contest was to exploit research and innovation and marry these to business expertise in order to incubate scalable startups.
"Madagascar has not a standard of innovation or startup yet," he said. "Habaka as a hub is among the organisations that are working to reach that goal. On a daily basis, we are trying to set up an innovation and startups ecosystem within the country."
Entrants will receive incubation and have their business plans developed, as well as undergoing prototype development and technical validation. The general public and jury will choose two finalists.
Startups will also enter the Innovation Prize for Africa 2014, while the 30 best projects will be promoted during Global Entrepreneurship Week in November.
Ratozamanana said he was expected more than 100 applicants for the contest, which would help to raise the standard of innovative business in Madagascar.
"We believe that businesses looking to commercialise emerging technologies are part of a developing business ecosystem, and the stronger they can exploit a network within the ecosystem, the faster the market for their products will grow," he said.
"The standard will come up in second phase when the network is set up, which means that innovators and startups are part of one community to get visibility."
He said Global Entrepreneurship Week plays a "critical role" in encouraging the next generation of entrepreneurs to start their own businesses.
Habaka is the official country host for the event this year, and is looking for collaboration in order to make the experience as beneficial as possible.
"Vital to a national campaign like this is the support of a network of large national partner organisations to reach different sectors of society in the form of a national advisory board," said Ratozamanana.
"For example, some might bring experience with public sector opinion leaders while others bring their involvement with existing businesses and entrepreneurs. Still others might specialise in helping students and youth or on incubating startups.
"All, however, bring a willingness to web together a collection of entities in their country that bring entrepreneurship activities to people from all regions within their nation."
He said innovation had the potential to be economically beneficial to Madagascar.
"First of all, innovation will boost the growth of Madagascar's economy because it will create local industry," he said. "Naturally it can solve many local issues and our people will be proud to buy good quality local products or works in good condition in a local company that is very innovative and competitive.
"Secondly, Madagascar is well known for its endemic plants and animals. We believe that innovation mixed with this unique biodiversity will put the country on the global map."