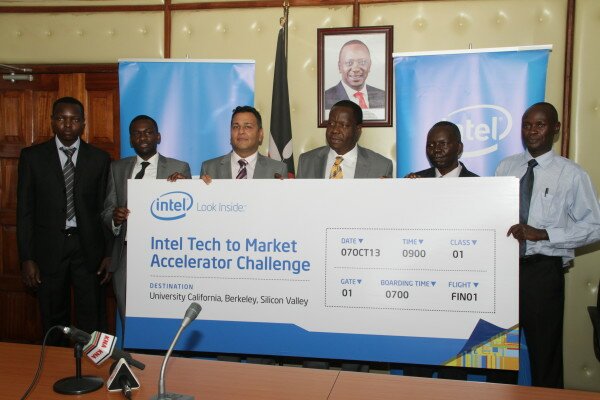 From Left Duncan Mwebia Jesse Mwirigi of Harmonics Suraj Shah Corporate Affairs Manager Intel East Africa Cabinet Secretary Ministry of ICT Dr Fred Matiangi Dr Monda and Michael Omaria of mHealth Solutions Centre
Intel Corporation has announced sponsorship of two Kenyan tech startups, Harmonics and mHealth Solutions Centre, to travel to Silicon Valley for three days of onsite training and a Demo Day with angel and venture capital investors.
The successful startups won the trip after emerging the best in the Intel Tech to Market Accelerator Program (T2MA).
Fred Matiangi, Kenya's ICT cabinet secretary, made the announcement at a press briefing in Nairobi, where the two startups were picked from 14 finalists.
"Programmes such as Intel Tech to Market Accelerator Program (T2MA) that provide opportunities for local software developers to nurture their skills, access the latest tools and get exposure on the global stage should be made available to the youth not just in Nairobi, but across all countries in Kenya," said Matiangi.
"The potential of social innovation is tremendous and can transform economies and improve lives right from county level to national level. If well applied, technology has the potential to transform our society and drive development."
Matiangi also revealed the government was working on policies that will see their scalability in addition to finding ways of using their innovations within government.
Speaking at the event, Suraj Shah, Intel East Africa's corporate affairs manager, said Intel supports local innovation by empowering young people to solve social challenges using technology.
"The Intel Tech to Market Accelerator Program is the perfect platform to bring together young entrepreneurs to share their plans for turning their computing technology ideas into business opportunities, and to showcase those plans to potential investors," said Matiangi.
"We are very excited two of our very own will be representing the country and will get the opportunity to compete and present their startup ideas at Silicon Valley."
The startups will get an opportunity to showcase their business ideas as well as receive feedback from potential investors at the University of California, Berkeley.
Intel invited developers through the Software Services Group launch and iHub to apply for the T2MA competition out of which 14 applications were received in Kenya.
Four teams were then selected to take part in the first phase of the competition which involved four months of startup training, tuning and mentoring from University of California faculty members and Silicon Valley entrepreneurs.
Based on their performance during the first phase, Harmonics and mHealth Solutions Centre were selected to go the UC Berkley for the final phase of the competition.
mHealth Solutions Center seeks to innovate, design, develop, and market mobile and web solutions that address acute problems in the Kenyan health system.
"This is an exciting opportunity for us not only to travel and meet like-minded individuals but also get a rich Silicon Valley experience," said Dr J M N Monda of mHealth Solutions. "We look forward to meeting venture capitalists, angel investors, mentors, incubators and hopefully through these new connections raise $1 million in private seed capital in the next 12 months."
Harmonics, made up of Duncan Mwebia a technical expert, Jesse Kaburu an entrepreneur and Phides Mugo, the mentor and marketer, is an ICT startup that will provide a cloud based platform to help high school administrators manage their data and information using mobile phones, personal computers and tablets with internet connectivity.
"Our project intends to streamline management of school administration by providing a unique and innovative solution," said Mugo. "The application will be hosted on a cloud platform eliminating the need for schools to incur extra expenses of server acquisition and other costs or risks associated with running an in-house application.
"We are looking forward to the Silicon Valley trip, to network, to gain new knowledge and hopefully create contacts that will help us propel our business to greater heights."
Shah told HumanIPO Intel will launch a similar challenge next year only it will involve more established companies with the aim being to create a larger market for them.