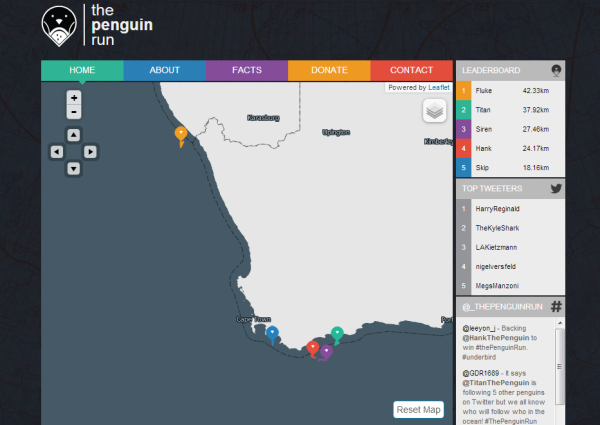 The online penguin-tracking map.
Five African penguins are being tracked by satellite this week in order to raise awareness of ecosystem protection.
Between October 7 and 13, five African penguins can be followed as they hunt for fish before their shedding season begins, when they lose more than half their weight.
Supporters can track the five's movements online via a live map and on Twitter for real time updates.
Each of the birds is also individually traceable with unique Twitter handles.
"They may not hear you… but by spreading the word you are taking part in something that could very well save this little guy from extinction," the campaign statement said.
The pro-bono campaign is deemed essential, with the penguin colony decreasing 90 per cent since the beginning of the twentieth century.
As the fish African penguins feed on are becoming increasingly scarce, the protection of certain areas is becoming increasingly important.
The winning penguin will be determined through the amount of kilometres swam at the end of the week.
A recent update from the Twitter page said:
Looks like old Skip has fallen into last place, with Siren making somewhat of a comeback. Fluke, she just keeps surprising us #thepenguinrun

— The Penguin Run (@_ThePenguinRun) October 7, 2013
Social media users are encouraged to support one of the penguins and share its progress to promote the cause.