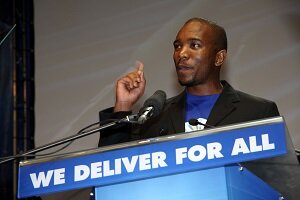 Mmusi Maimane, DA premier candidate for Gauteng. CC image courtesy of the Democratic Alliance on Flickr.
Mmusi Maimane, the Democratic Alliance (DA) premier candidate for Gauteng, has said the controversial e-tolling system will negatively impact on jobs and businesses in Orange Farm, South Africa's largest informal settlement.
According to Maimane, who was speaking on his "Believe Bus listening tour", Orange Farm, south of Johannesburg, is home to 1.5 million people.
Addressing the people at Orange Farm, Maimane said: "We know that very soon the national government and the current Gauteng government will turn on all of their e-toll gantries across this province.
"In fact tolling tariffs are set to be published this week by [transport] minister Dipuo Peters who instead of paying attention to public opposition is now encouraging people to embrace e-tolling."
Maimane said: "When this happens, every journey and every trip for people in Gauteng, and Orange Farm in particular, will become restrictively expensive. Taxi fares for residents here to get into the city will rise."
In addition to taxi fares rising, Maimane said e-tolling will also negatively impact on small businesses in the area and food costs, both of which will rise, resulting in life becoming more expensive.
"I talked this morning to a trader in Orange Farm who travels to the city every week to buy his stock. His journey will take him through three e-toll gantries, in each direction," said Maimane.
"This will add hundreds of rands to his monthly costs, and he tells me that today, before e-tolls, he only makes a few hundred rand profit a month."
Maimane then called on the residents of the informal settlement to "rise up against this uncaring government," and said the best way to achieve this is at the ballot box next year. He also reiterated his pledge to stop e-tolls if he is elected.
Maimane said the reason for the DA commissioning the billboards stating: "E-tolls. Proudly brought to you by the ANC (African National Congress)" is because the governing party supported e-tolling.
Meanwhile Vusi Mona, spokesperson for the South African National Roads Agency (SANRAL), urged Gauteng motorists to avoid a last minute rush to register for e-tolling and purchase e-tags.
Motorists in the province who fit e-tags to their vehicles will reportedly receive discounts of up to 48 per cent.