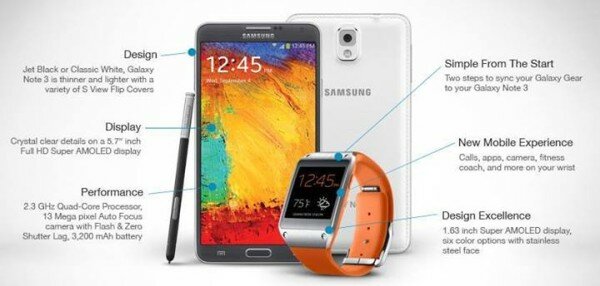 The Galaxy Note 3 with the Galaxy Gear.
The Samsung Galaxy Note 3 has been launched in Ghana, and will be available in the West African region with Samsung Premium, an advanced version of the company's original 24-month accidental damage from handling (ADH) warranty.
Presenting the latest product to journalists in Accra, Jaspreet Singh, business leader for handheld products at Samsung Ghana, said the device empowers users to enjoy, experience and fulfill their business lives.
He said the device is the company's answer to users' desire for a smarter and larger screen and ease of use with the S pen.
"It also adds delight to daily tasks and infuses innovative features that help consumers tell the story of their lives," Singh said.
Emmanouil Revmatas, director of handheld products at Samsung Electronics West Africa, said: "With the original ADH warranty, our consumers can have their Samsung Galaxy S4, repaired for free, with no-questions asked.
"The repairs cover screen and liquid damage, for at least twice, during the first two years of the life of their device. For the Galaxy Note 3, we have upgraded the service.
"This is a world first from Samsung. It represents our commitment to anticipating the needs of our consumers and providing them with superior service towards making their lives worry-free."