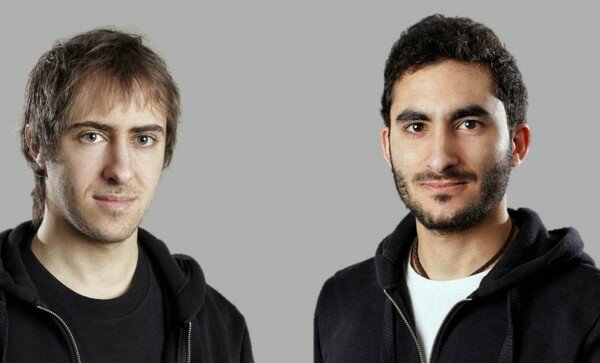 2go co-founders, Alan Wolff and Ashley Peters. Image courtesy of 2go.
African social mobile network 2go has experienced strong growth during the past 12 months, establishing a significant presence in South Africa and Nigeria. HumanIPO spoke to co-founders Ashley Peter and Alan Wolff about their industry approach and core focus to continue 2go's growth.
HumanIPO: In which areas of the market are there still more opportunities to exploit?
Wolff: We don't think we are completely tapped into the Nigerian market. We feel there is a lot more room for growth there, as well as [in] a bunch of other countries in Africa, particularly where our service makes a lot of sense.
[It is relevant] where people have feature phones, which is very, very popular in Africa where communicating is difficult or expensive.
Is there another African country, apart from South Africa, where you feel the solution has worked really well as catering for a developing market?
Peter: Nigeria works really well as it is an emerging economy. Our service is really popular there. We have over 10 million active users that are using us, once a month at least.
We feel that our service is really helping them communicate with people they already know. It is helping them connect with new people, it's helping them to discuss important issues around communities around health, around love and relationships, around general interests, some things like football and music.
What do you think of mobile money as an extension of social media networks?
Wolff: We think it's interesting and it's something we are keeping an eye on.
It has huge potential. One can offer a lot of value to facilitate easy payments as valued to their lives.
However, it is not something we are doing right now. We are just focusing on our core features and we will look at it in the future.
Peter: What we have integrated into the 2go system is a currency called 2go credits. That is basically how you spend money on 2go.
So we feel we have a really good opportunity to work with mobile money as we already have the existing currency.
Our active users, millions of people, are already using that currency. So we feel it would be a natural extension to introduce mobile money.
With regards to company culture, how do you lay the groundwork and what are considered the main principles?
Peter: We really put our users first. It is really about trying to provide them the very best experience because ultimately we want to provide value to these people.
We really do want to try and help the people – enriching people's lives is something we speak about a lot and so that is one of our core values.
Wolff: There is a culture of people really trying to push and grow…and really enjoy growing and learning and developing themselves and their skills and also pushing themselves a little bit out of their comfort zones.
What are the biggest challenges you face in the market?
Wolff: There is a lot of competition trying to get into the market and we obviously have to make sure that we can ship great products in time.
That is the only way that we can really compete and define users' needs and differentiate.
How do you separate yourself from the other offerings?
Wolff: We are building a social experience for the user as opposed to just a messaging experience and trying to cultivate it for each market that we go into, which includes the localisation and adding elements in the application which makes the user feel closer, relate to it more than they could relate to other applications or products.
Do you believe in collaboration as a key to progress?
Peter: Collaboration is very much one of our values. We work in a small team and collaboration is absolutely essential.
There are not many times when one person does something on their own. It is more a team effort. By working in a team you are growing yourself.
Wolff: They are sharpening themselves against us.