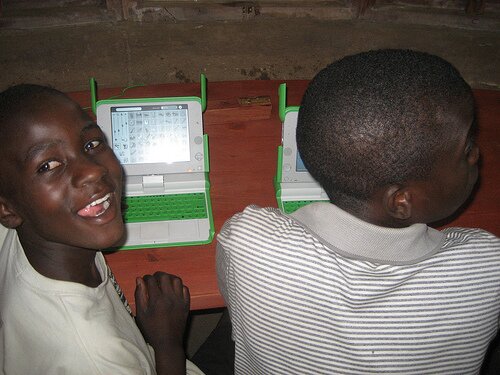 CC image courtesy of Lubuto Library Project on Flickr
The Kenyan government has selected 150 people to train 60,000 teachers to kick off the integration of ICT in public primary schools ahead of the rollout of the one laptop per child initiative early next year.
Belio Kipsang, principal secretary for the State Department of Education, launched the training of 150 master trainers at the Kenya Education Management Institute and said teachers will play an important role in the use of ICT in teaching and learning.
"Technology in the classroom without the teacher will just remain merely as technology," said Kipsang. "The success of the implementation of ICT integration programme in primary schools will depend mainly on teacher training in ICT integration skills and changing their attitude to accept change."
The master trainers were called for a two-day course before they are released to begin grassroots' training.
Kipsang said the returns on the investment in ICT in education are commendable and countries which have been practicing ICT integration have realised huge growth in innovations, trade, business and proficiency in many sectors.
Simon Kavisi, director of administration at the Teachers Service Commission (TSC), said TSC had developed a training manual and user guide for ICT, saying exposure to this through training will ensure teachers acquired the necessary competence to integrated ICT in teaching and learning.
The participants at the training, who have been drawn from primary, high school, and other government educational institutions, will train 3,000 Training of Trainers who will in turn train more than 60,000 teachers in all the 20,367 public primary schools on delivery of e-content.
Training comes as the ministry said the winning supplier of the laptops would be named this week after completing the evaluation of tender bids.
Nine firms bid for the lucrative tender, with one vendor placing a double bid in a process that saw the lowest bidder quote KSh28.7 billion (US$337 million) – more than three times the budget.
Huawei PTE Ltd was the highest bidder and quoted KSh60.5 billion (US$711 million).