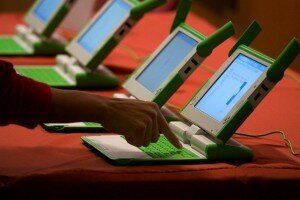 CC image coutersy of Marcin Wichary
The Kenyan government has moved to realise one of its key campaign pledges by advertising bids for the provision of laptops, printers and projectors for all its public schools.
The Ministry of Education, Science and Technology put out an International Competitive Bidding tender for supply, delivery, installation and commissioning of computing devices and solutions for ICT integration in education in primary schools.
The government allocated KSh53.2 billion (US$609 million) in June's national budget, for the one laptop, one child policy, to be implemented in four phases
"It is intended that part of the proceeds of these funds will be applied to eligible payments under contracts for procurement of ICT integration in education portable computing devices for primary schools in Kenya," the tender advert said further.
Education principal secretary Belio Kipsang invited both local and international suppliers of the portable computer devices to participate in the bid.
Tough conditions have been set for those intending to supply the laptops with the ministry saying bidders for the supply of laptops must provide a KSh228 million (US$2.6 million) security fee, while a KSh14 million (US$160,000) security fee has been set for printers and KSh20.4 million (US$234,000) for projectors.
"The security shall be in the form of a bank guarantee and must be from a reputable bank. In the case of international firms, the bid security shall be confirmed by a corresponding local bank," read the advert.
Interested bidders are required to deliver their bidding documents and securities by 10am on September 3 to the head of supply chain management services at the ministry where bidding will be opened on the same day.
"A complete set of bidding documents may be purchased by interested bidders upon payment of a non-refundable fee of KSh5,000 (US$57) to the cash office of the Education Ministry at Jogoo House B, 9th floor room 925."
The principal secretary added that a pre-bid meeting will take place on August 16 at 10am.
"The overall goal of the Ministry of Education, Science and Technology is to provide equal access to quality education to all pupils irrespective of their socio-economic status," Kipsang said.
The one laptop per pupil initiative has received criticism from some quarters over the past few months with opposition leaders urging President Uhuru Kenyatta to shelve the project with more concerns being raised from an environmental lobby group who argue that the project will be harmful to the environment.
Local and multinational laptop manufacturers have been targeting the billion shilling tender that has seen Microsoft president Jean-Philippe Courtois paying a courtesy call to Kenyatta, where the company offered to provide hardware, connectivity and software in the grand project.