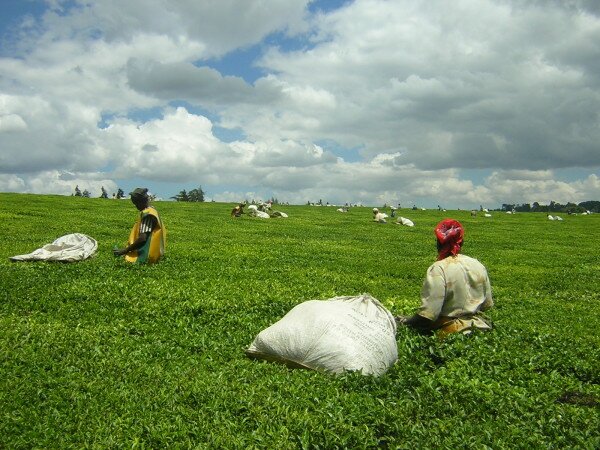 Tea pickers in Kericho. CC image courtesy of Ed Roberts.
The Tea Board of Kenya (TBK) and Trademark East Africa (TMEA) have unveiled an online trading portal, aimed at reducing turnaround times in processing certifications and other trading documents.
The online portal has automated TBK's processes to make them available electronically and is expected to reduce transaction time, increase efficiency in service delivery and reduce the overall cost of doing business, including becoming a paperless company.
Zakayo Magara , TBK acting managing director, said: "Today we are launching a tea industry web based e-portal whose development commenced early last year with the support and sponsorship of the Trademark East Africa.
"Stakeholders in the industry have always looked forward to the day they will transact business on their desks through the Internet and in so doing improve efficiency."
Felix Koskei, cabinet secretary at the Ministry of Agriculture, Livestock and Fisheries, said: "As you are aware, ICT is one of the key instruments identified and adopted by the government to spur economic growth for our country. There is no doubt that ICT is the answer to the many challenges that we have experienced in service delivery and trade facilitation.
"Our economy cannot be competitive if we continue to be bogged down with slow manual processes even as we face competition from other global players."
The TBK online portal will re-engineer the processes used by the board to enable stakeholders to apply for operational licenses, renew existing operational licenses, make monthly and annual statistical returns and register tea exports and imports.
The KSh12 million (US$141,000) e-portal, a product of a partnership with TMEA, will also be integrated with other government agencies including the Kenya Bureau of Standards (KEBS), Kenya Plant Health Inspectorate Services (KEPHIS) and Kenya Revenue Authority (KRA) via an interface with the Kenya National Single Window currently in development by the Kenya Trade Network Agency (KENTRADE).
These solutions will enable government agencies and the private sector to participate in the eventual national and regional electronic Single Window Information for Trade (SWIFT) that will reduce time and costs for traders and trade facilitation agencies in the East African region.