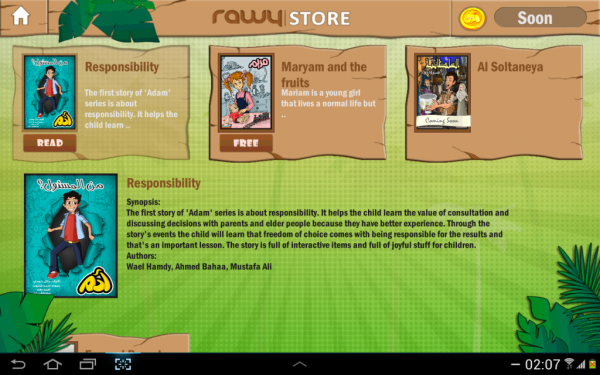 Egyptian digital platform Rawy has almost completed its Android version and expects it to be ready for release before the end of this month.
Rawy, founded in October 2012, is a digital publishing platform that helps authors, artists and publishing houses transform their books from their traditional printed form into interactive digital books which they can sell online.
One year on, the digital platform has since been released on Windows 8, Apple's AppStore and will soon be made available on Google Play.
Mahmoud Ghoz, founder of Rawy, said the platform is now focusing on tablets and PCs as the medium through which the content is consumed and is planning to launch content through other digital media.
Ghoz told HumanIPO he began Rawy in a bid to meet the needs of parents wanting to purchase material that both entertains their children and delivers value at the same time.
"My kid was my inspiration, I would watch cartoons with him but after a while I discovered most cartoons did not have enough content so I tried finding replacements that would be more suitable," Ghoz said.
"We have a lot of Arabic books, but books designed for kids are not as interesting anymore so I decided to start a company that would cover this gap."
Ghoz said Rawy helps independent comic artists and writers along with publishing companies that do not have their content online due to the high technology barrier.
"Writers and comic artists need to transform their illustrations into digital books and stories consumable on digital media and sell them online since users today prefer digital content to printed," Ghoz said.
In a time when technology is changing Egypt and Africa as a whole, people are choosing to shift from traditional readership to digital reading opening a great potential for innovation.
Ghoz said he expects potential customers of Rawy to increase now that users in Africa are welcoming the technology revolution and purchasing smartphones and tablets which are the company's current focus.
He said the startup is working hard to overcome the challenge of a lack of funds and resources, but is hopeful with the digital world changing this will become a thing of the past.
Rawy is welcoming artists who want to digitize their books to visit their site Rawy.me as well as those who are willing to become partners and help in the migration to a fully digital world.