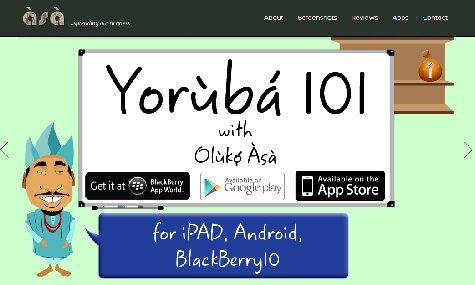 Genii Games, a Nigerian games company that seeks to preserve and promote Africa's rich culture, has announced an expansion in its collection of apps aimed at accommodating and promoting Nigeria's rich and diverse heritage.
Apps available to download on BlackBerry, Android and iOS devices include Yoruba 101, Igbo 101, aHausa, Oluronbi, The Lazy Chicken and The Monkeys' Quest.
"We can confidently say that our age long morals, native tongues, etiquette, fables and other treasured cultural elements will not die," Genii Games said in a statement.
"Going forward, Àsà's development efforts are geared towards releasing more culturally oriented apps across board to cater for our diverse and rich cultures."
Àsà, which means culture in the Yoruba language, has grown to be a collection of apps that run on a wide range of devices including smartphones.
"These apps come enhanced with features such as games, colourful illustrations, voice, sound and animation, all packaged within cultural contexts to appeal to kids aged 2-12 years," it said.
"Àsà's audience has gone beyond the 12 year olds – parents are in love with this digital storyteller, young adults don't mind being told stories or taught languages in a new exciting, colourful way."