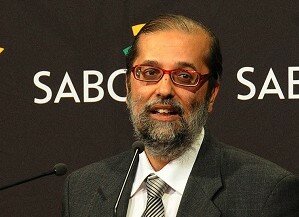 Yunus Carrim. CC image courtesy of GovernmentZA on Flickr.
Yunus Carrim, South Africa's minister of communications, has launched the Freevision satellite television service in GaMphahlele, Lepelle Nkumpi municipality in Limpopo, an area with an intermittent broadcasting signal.
"As the government, we are determined to ensure that we bring services to all South Africans, especially the poor and those in rural areas. It is wrong that some communities are excluded from accessing services for whatever reason," said Carrim.
Carrim said the Department of Communications (DoC) will implement the satellite service in GaMphahlele in phases. To start the project Carrim handed decoders, television sets, and satellite dishes to 10 indigent households with children.
Carrim visited the GaMphahlele area in response to a letter written to the DoC by the Queen, Koshigadi Ngwanamohube Phatudi-Mphahlele, in which she asked for assistance in setting up a community radio station and telecentres.
A television set was given to the post office in the area and another to the Tribal Council offices. Internet enabled computers were given to two primary schools as well as three high schools in a move to assist in improving the quality of education in GaMphahlele.
"As a community, you now have access to the SABC (South African Broadcasting Corporation) 24-hour channel on a free to air platform," said Carrim. "One of the good things about this is that the community will receive more news and information in Sepedi, your local language."
Regarding the internet enabled computers given to schools, Carrim said: "One of the key programmes that will be made available is on maths and science. If we want the young to be employed, and to succeed professionally, they have to have a good grounding in maths and science."
According to Carrim, the DoC, provincial governments and municipalities are working together in order to reduce the amount of South Africans who do not have access to signal, which number five million.
Carrim also appealed to mobile network operators to work with the relevant stakeholders to provide education on how South Africans can utilise their mobile phones to make money and create self-employment.
In line with the Queen's request, Carrim said the DoC will provide assistance in setting up the requested community radio station.