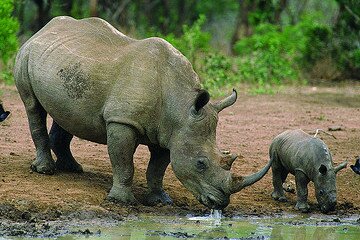 CC image courtesy of safari-partners on Flickr
The World Wildlife Fund (WWF) will hand over 1,000 microchips and five scanners to the Kenya Wildlife Service (KWS) as a tool to strengthen the monitoring of rhinos.
The wildlife equipment, valued at more than KSh1.3 million (US$15,276), will help in monitoring the endangered species as well as stockpiling audits of the rhino horn.
"With poachers getting more sophisticated in their approach it is vital that conservation efforts embrace the use of more sophisticated technology to counter the killing of wildlife," read the statement from KWS.
It added that the tracking systems combined with forensic DNA technology will ensure there is 100 per cent traceability of rhino horns within the country.
"This will serve to strengthen rhino monitoring, protect the animals on site and also support anti-trafficking mechanisms nationally and regionally," said KWS.
The technology will also make it easier to obtain successful convictions of suspected poachers because investigators should be able to link them to confiscated horns.
It is already being used internationally and has strengthened inter-agency collaboration between customs, police, justice, wildlife agencies and defence.
In Africa, where the technology is yet to be implemented, wildlife conservationists say the move will go a long way to exposing the rhino horn trade chain and facilitate the dismantling of the networks that promote and sustain the international wildlife trade.
Wildlife conservation in Kenya has been going more hi-tech recently, with agencies putting in place a series of measures to beat poachers, including drones, CCTV cameras and SMSs.
Online wildlife campaigners in Kenya have also launched poachersexposed.com to name and shame poachers and assist the fight against poaching.