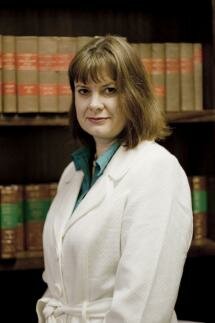 Debbie Schafer. Image courtesy of the DA.
Suggestions of establishing special courts for the prosecution of e-toll non-payers are concerning and the Justice Department should fix South Africa's justice system to benefit all citizens instead of creating the courts to protect government interests, according to opposition party the Democratic Alliance (DA).
Debbie Schafer, the shadow deputy minister of justice and constitutional development for the DA, raised the concerns regarding the South African National Roads Agency Limited (SANRAL) and the Justice Department's plans to establish special e-toll courts.
"When the Sexual Offences Courts were disbanded, it took the government about six years to reconsider, despite ongoing calls for their reinstatement, even by the National Prosecuting Authority (NPA) itself," said Schafer.
She referred to the statement made by Mthunzi Mhaga, spokesperson for the Justice Department, on the e-toll courts, who said they are "talking about what would be the best method."
"It thus appears that it is not a question of whether they will be implemented, but how. How is it possible for courts that are so crucial in dealing with sexual offences to take seven years to begin reinstituting, yet when SANRAL asks for special courts the question is not whether, but how?" said Schafer.
Schafer said only a third of the budget required for sexual offences courts has been allocated, which raises the question of where the money is going to come from for the special courts dedicated to e-toll transgressions, also since the Justice budget has been cut by ZAR600 million (US$60.9 million).
In line with this, the DA will submit parliamentary questions to Jeff Radebe, the minister of justice and constitutional development, regarding his consideration of establishing special e-toll courts, why, and where the money will be sourced from.
"It is patently obvious that the only way special courts can be implemented is by using existing resources. It is common knowledge that the existing resources are overstretched. Many people have to wait for years before their cases are brought to court," said Schafer.
Schafer believes the fact that the special e-toll courts are being considered by government is an admission on their part the justice system is failing ordinary South Africa because there would be no need for special courts if the justice system operating effectively.
"The minister does not need a task team to decide whether these courts are desirable or not. They clearly are not. If the Department goes ahead with them, it will be a slap in the face for every South African and will be the clearest indication yet that the interests of the general population are last on the government's priority list," said Schafer.