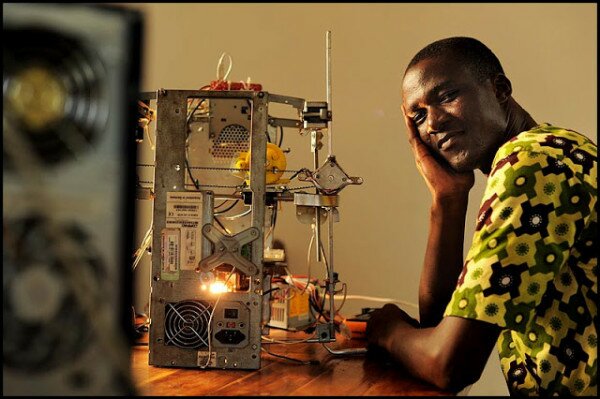 W.Afate, creator of the e-waste 3D printer. Image courtesy of Woelab.
E-waste can be key in solving community issues, the creators of the world's first 3D printer from recycled computer parts says.
Based in Togo, the Woelab is a co-working space for "the democracy of technology", aiming to give the youth access to tools such as computers and materials to create innovations.
Started in 2012 and funded by Togolese Sénamé Koffi Agbodjinou, the lab has grown from six to 15 members within a year of its launch.
Also working at the lab is W.Afate, the builder of the world's first 3D printer made from e-waste.
Speaking to HumanIPO, Afate related how the lab initially bought a 3D printer, but wanted to assemble an alternative model to be authentically African, which led to gathering parts from old computers to construct one from recycled materials.
"We just brought it and put it together and connected all the stuff and made it work," Afate said.
Woelab is encouraging the community in Lome, Togo, to also collect their e-waste and embark on building 3D printers.
"We use our imagination to start from those materials and just look at old computers… and see if it's possible," he said.
Working with open source tools and collaborating materials, the Woelab is also open to offer help and assistance to those who are struggling to construct their own.
They are in the process of also writing a how-to Wiki so that people around the world may also share in building their own solutions.
Currently using the printer to reprint materials such as stamps and badges, it is however also open for both local and international collaboration to roll out the model across the world.
However, at current stage they are still working on perfecting the product before being market-ready.
Koffi Dodji Honou, executive manager of the Woelab, emphasised the importance of letting people know "it is possible to create a lot of things from e-waste to help the community".
Working also with other forms of waste, the next project the team is planning is building an x-ray machine to recycle plastic bags and create ropes from pLA and ABS plastic that is not readily available locally and is usually expensive to order from Europe or China.
He also said he was thankful to everybody for helping with their crowdfunding project, contributing towards the building of the 3D printer.