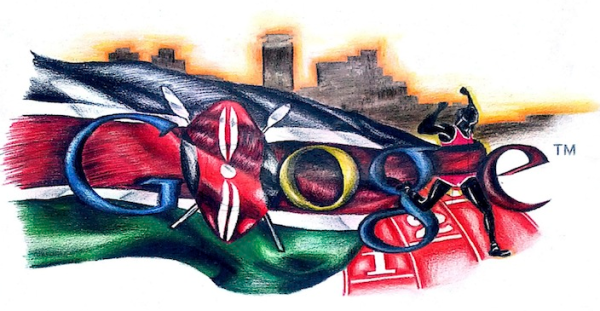 Winning Kenya's Doodle for Google submission by Esther Wamai
Google has named 17-year-old Esther Wamai as the winner of the 2013 Kenya Doodle 4 Google competition, being voted the best online out of thousands of submissions.
The Grade 13 student's "Feet of Gold" Doodle was featured on the Google Kenya homepage on the Mashuja Day national holiday on October 20.
The Doodles submitted according to Google through its blog mainly featured Kenya's strengths, including marathon runners, wildlife and culture, under the theme "My Kenya".
"From marathon runners to wildlife to cultural melting pots, we were wowed by these young artists' creative interpretations of this year's theme, "My Kenya"," the company said.
Wamai, who said she was inspired by her art teacher and parents, will now receive an Android tablet and tuition scholarship worth KSh800,000 ($9,445).
Google will also offer her school a KSh800,000 technology grant.
Other winners across other categories include Neer Jaynish Shah from Oshwal Academy in Nairobi, who won the 6-8 year old category with his "Proud to celebrate fifty years of Kenya with Honor" Doodle.
Joash Kikosao from Rusinga school, Nairobi won the age 10-14 years category with his "My Home Kenya" Doodle while Drupad Dinesh Revankar of Arya Vedic secondary won the age 15-18 years category with his "Colours of Kenya" doodle.
The winning Doodles together with those by the other finalist will continue to display their Doodles on the Doodle for Google website until the end of the year.