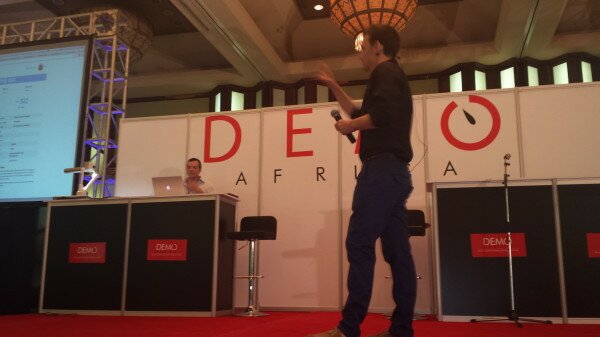 DEMO Africa 2013 has kicked off in Nairobi with over 40 tech startups set to pitch in a bid to catch the eye of investors and venture capitalists.
DUMAWorks.com kicked off the first session in the mobile category, presenting its job search app to potential investors.
DUMA is a community for people to find jobs, hire employees, refer friends and grow professionally online or through mobile phones. With a growing network and customer service representatives, DUMA provides a way to get professionally connected.
"Duma has so far enabled 1,700 job seekers to get employment and has 3,500 people registered on their database," said founder Kenny Rachuonyo.
Rachuonyo said the application cuts across any sector of the job market and the primary guarantee is accountability.
"If you are an employer, we have services to fit your hiring needs, regardless of which industry you are working in. Whether you are looking for a one-time plumber to fix your broken sink, a part-time field researcher for your NGO, or a full-time business manager for your company, DUMA has a trustworthy worker for you," he said.
Faselty from Egypt was second on stage, pitching its solution which connects hospitals and blood donors.
Faselty, which in Arabic means "My Blood Type", was founded in 2012 and covers Cairo as the first phase of the ambitious plan.
"Faselty will be connecting donors and guiding them to the nearest point of donation that is in need for her/his blood type.We are targeting to raise US$50,000 in a bid to grow the app further in other countries," said founder Samar Ali.
SleepOut.com, a portal that enables online booking of accommodation in Kenya, was the third startup to pitch.
Johann Jenson, SleepOut co-founder, said it has 25,000 beds and revealed it will be launching an occupy campaign which targets Africa and Middle East.
SleepOut visions a US$100 billion opportunity in the African tourism market.
Zehoo, a South African mobile productivity app that organises your documents and simplifies cloud storage, was the last to pitch in the mobile category.
Founder Robin Bayhack said Zehoo aggregates mail attachments, PC and physical documents into one simple app with one login and one user experience. The user can conduct searches, across all platforms simultaneously, using the document name or a keyword, edit documents and share them with other users.