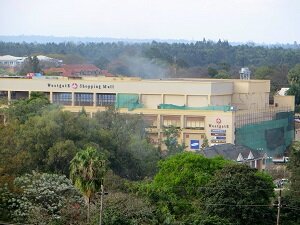 Westgate Mall in Nairobi. CC image courtesy of Anne Knight.
Kenya's inspector general of police David Kimaiyo has warned journalists over their continued use of leaked CCTV footage of the Westgate attack, cautioning that it bordered on hate speech as arrest warrants for two investigative journalists were issued.
Kimaiyo's warning comes after the contentious footage increased the spotlight on the Interior Ministry, which was coordinating the rescue efforts during the attack, for having provided erroneous information to the public.
The CCTV footage shows that only four gunmen were in the building, contradicting earlier higher estimates by cabinet secretary Joseph Ole Lenku.
It further shows Kenyan military personnel leaving with wares from Nakumatt supermarket as well as dozens of empty beer bottles, which led to suspicion of looting by the military.
"We need not to incite Kenyans; we need not to distribute or maybe issue statements that can amount to hate speech or issue statements or report that affect the lives of other Kenyans," he said.
Kimaiyo said the constitution gives limitations in regards to the freedom of the media as well as freedom of expression.
The inspector general said the media must remain loyal to the system and the government.
Meanwhile the Law Society of Kenya has criticised the move by the inspector general, saying it is a threat to journalists and an attempt to interfere with press freedom.
Already the police force has issued warrants for the arrest of two journalists working for the Standard Group following their feature on the siege that showed a disjointed front between the military and the police.
The warrants have been received with condemnations from Kenyans across the board.
The govermnent is copying Chinese media practices. We must be vigilant & impress on our lawmakers to reject this backward slide to tyranny.

— Gitobu Imanyara (@GitobuImanyara) October 24, 2013
The owner of Nakumatt was also summoned yesterday over the leakage of the CCTV footage to the media.