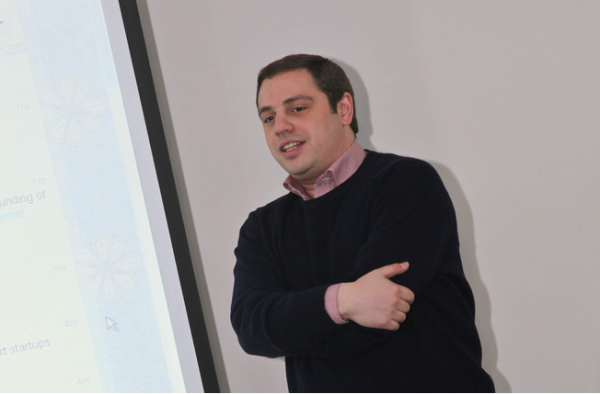 Abudallatif Olama, serial Eqyptian startup entrepreneur.
Serial Egyptian entrepreneur Abdullatif Olama, also chief executive officer (CEO) at DAREnDEAL, spoke to HumanIPO about the venture capitalist (VC) and tech startup scene in Egypt.
HumanIPO: What are the key obstacles for the development of VC in Egypt?
Olama: The biggest obstacle is that everybody is afraid right now because of the political and security turbulence in Egypt.
Being in a startup, you don't know for sure if the plan will work correctly, if the model that you work with typically will give you the exact revenue model.
The issue with VC secondly in Egypt is, like the market… similar to the entrepreneurs, they do not have a lot of experience.
So there are not a lot of success stories of tech startups in Egypt growing over a certain amount of time, getting investment from VC.
There is a lot of talent and it is available, but the lack of these success stories make it difficult for the VC to invest in multiple grounds.
There are additional obstacles here, such as remote payments. In Egypt that is not running smoothly.
In our logistics, the traffic is horrible and this [costs] delivery a lot of time.
What can Egyptian startups do to overcome these obstacles?
I think that the Egyptians specifically are admiring their own market too much.
Egyptians tend to think that Egypt is already a big market. I need to find the idea, scale it to the Egyptians and then I have the business.
They don't think of the international market until later. This is something that needs to change if people want to make it a proper business.
The experience has to be shared among the people more oftenly around technology and startups.
You often find the same people talking very theoretically. They are not talking about the practical ways of making the business sexy enough for the investors, for the VCs to compete for it.
Where is there still room for development in the Egyptian startup scene?
There is still room for online payment. It is a big opportunity for startups here. Also, e-commerce is in its very early stages here.
There is a focus on the local aspect on this market to make it more convenient for people, expand the offering, making the prices competitive and not just work on a theoretical basis, but really connect with the suppliers.
If you look at the three top [online store] players, their total revenue is still less than one of the big stores selling in Cairo. This is a great opportunity in e-commerce.
What role does the government play in the fields of VC and tech startups in Egypt?
The government put a lot of effort in before 2011, trying to develop the ICT sector in general to service the need for companies because there would have been a big time gap to use the highest skilled Egyptian labour and provide cheaper services for Europe specifically while giving a good income to Egyptian labour.
There wasn't that much focus on facilitating the life of startups and tech investments in general.
More of this has to happen. So facilitating, for example, the startup conditions in these new companies, so not putting high tax rates on them, allowing them to have more payment ways, giving them a push in the beginning by setting up funds to finance these small and bigger entities.
This started happening but there needs to be a bigger push.
The ministry of communication and IT… were interested to create a championship in something technological.
This is the best idea to make people move towards the sector and improve the success chances of the layers in these areas.
They need to have something big to approve these are trusted, they are backed by the government so that we can say Egyptians can do something successful in technology.
Are there sufficient incubation organisations or accelerators?
There is a lot of them, but their experience is very limited. We need better incubators, not more.
A lot of them exist because it's cool to lecture people on things and to help people, but they do not really worry enough about what could be successful and the tips and tricks to get through the first three years.
The bad thing is, a lot of corporations advertise that they have incubators but they do it just for the show.
They are not even interested in taking them to the next stage.