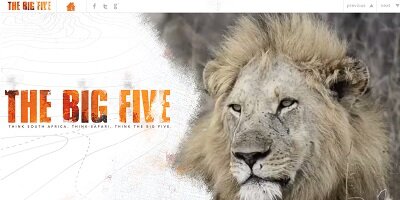 South African-based Flow Communications has recently launched a website dedicated to Africa's big five, adding to South Africa's online tourism space.
The Big Five website uses photograph, informative content, videos, and interactive games to create a virtual experience aimed at inspiring those who have never seen the big five animals to visit South Africa and see them for real.
"The Big Five website was born out of the necessity for a virtual space that allows visitors to interact with the most famous members of South Africa's animal kingdom: the lion, the elephant, the buffalo, the rhino, and the leopard," said Tara Turkington, chief executive officer (CEO) of Flow Communications.
"The intention was to inspire those who have never seen these beasts to come to South Africa and see them, and for those who have seen them to come back and see them again and again."
The website has also been designed to encompass social media platforms for easy information sharing. The platforms include Facebook, Twitter, and Google Plus and users are also able to send high resolution postcards via email.
The website was designed to be scalable to both desktop computers and tablet devices. Users can also download high resolution wallpapers for their devices, desktop and mobile.
"The site makes use of the latest HTML5 and CSS3 techniques in order to optimise the experience on mobile devices. Full screen videos and images scale responsively according to the size of your browsing window and the quality of your internet connection," said Richard Frank, head of Flow Communications' development team.
"The games on the website have been developed using HTML5 Canvas, a new approach for developing games on mobile devices that does not rely on Adobe Flash, which is not supported on some mobile devices."
In order to ensure the high definition images and videos reach users' screens speedily, a content delivery network has been established with thousands of mirrored serves on a global scale. This ensures fast download speeds, regardless of where in the world the user is.
"Putting together this unprecedented site involved a specialised and talented 10 person team of writers, editors, designers and web developers." said Turkington.
The Big Five website has also been designed to include a comprehensive booking function, which assists users plan trips to South Africa. It includes everything from flights to accommodation. Users can also use a detailed map on the web site to find information on parks as well as the spots where the big five animals can be spotted.