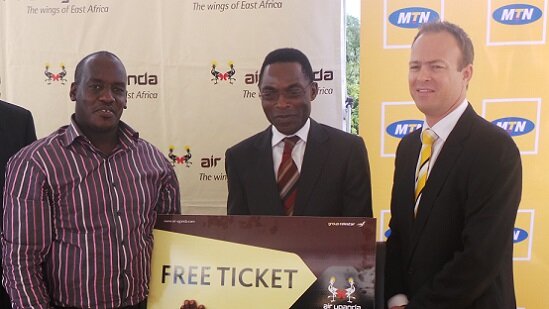 MTN, in conjunction with Air Uganda, has launched a new mobile payment option on the airline's billing platform to enable customers to pay for air tickets using their mobiles
The move is in line with Air Uganda's desire to see more people fly by offering affordable and accessible air travel services in addition to making them easier to access.
Speaking at the unveiling of the mobile money payment platform, Air Uganda chief executive officer (CEO) Cornwell Muleya said: "Using MTN Mobile Money, our customers can now pay for air tickets and fly. At Air Uganda we want to empower our customers, so we introducing innovative products and technologies to ease the travel experience for the customer.
"This mobile money platform is easy to use, convenient, reliable and fast. It will save our customers a lot time, since they can now buy tickets from wherever they are."
Since the launch of the service five years back, MTN Mobile Money has registered more than 25 million transactions each month with more than 4.7 million customers active.
Ernst Fonternel, MTN chief marketing officer, welcomed the partnership with Air Uganda, saying it was a new addition to a number of other stakeholders who have partnered with MTN Mobile Money to deliver convenience to more than eight million customers on the MTN network.