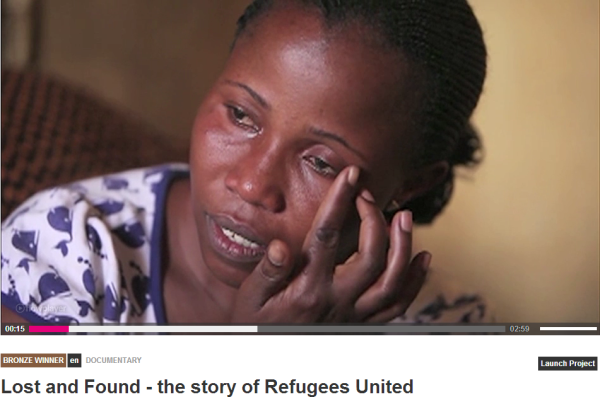 A documentary by Refugees United about a Congolese woman living in Uganda titled 'Lost and Found' has won a bronze Lovie Award in Europe, beating around 1,500 entries from more than 30 countries.
Lost and Found won the third annual Lovie Award under the documentary category presented and judged by the International Academy of Digital Arts and Sciences in regards to its unique nature and exemplification of excellence on the internet.
The award that recognises Europe's top web and creative networks to cultural and political organisations recognised how Refugees United has been able to use technology to bring lost families together after years of separation in Africa.
Following the award, Refugees United will be honoured on November 13 in London as part of the internet week in Europe 2013.
The gold award was won by a documentary detailing the Istanbul uprising and the BBC's 'People Just Do Nothing' came in silver.
The Lovie Award is a pan-European award honouring the breadth of content created for the internet and brings together leading web experts, business figures, luminaries, creative celebrities and other internet professions.
"Refugees United is pleased to join in the ranks of past Lovie Award Winners that include Stephen Fry, Bjork, Tweetdeck, VICE UK, The BBC and many more," the organisation said in a statement on its blog.