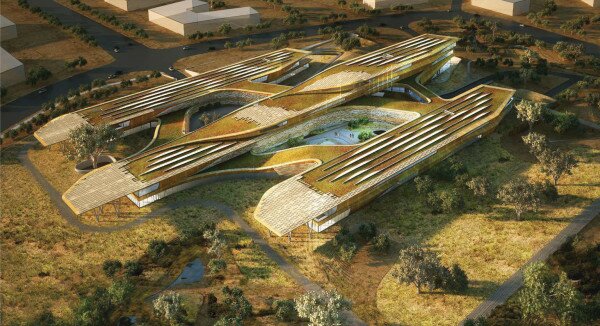 An artists impression of how the Icon Building should look once completed at the Botswana Innovation Hub (BIH) within 24 months.
Construction work for the Botswana Innovation Hub's (BIH) Icon Building was due to begin today (Friday), bringing an end to setbacks which first began with the global financial crisis of 2007.
In an exclusive interview with HumanIPO, Tshepo Tsheko, programme manager at BIH, said everyone involved in the project would get a huge boost from the building work getting underway.
The ambitious project, funded by the government, had to be scaled back and remodelled after the 2007 crash and the Icon Building will be the centrepiece of the hub on the outskirts of Gaborone.
"At the time of the global financial meltdown there were some economic challenges which meant the project had to be scaled quite a bit and the initial development had to be revised," Tsheko said.
"It was finalised last year and has allowed us to commence the construction of the park."
Once completed, the building will house BIH's new First Steps Venture Centre incubation and acceleration programme, which will be run in the meantime in an off campus location.
The laying of the fibre optic cable for the park is already underway.
"It is definitely a great landmark to reach," Tsheko said. "We aspire to be really the hub for innovation not just for Botswana, but for Africa. Botswana has some key attractions both on the political side and improving the things for doing business in the country.
"That should really allow us to see some more investment. We have been fortunate to have the diamonds and commodities being mined here, but we now need to focus on becoming a more knowledge based society."