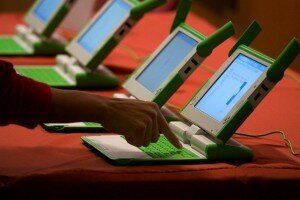 CC image coutersy of Marcin Wichary
Rodrigo Arboleda, chief executive officer (CEO) of Rwanda's One Laptop Per Child (OLPC) programme, has revealed it intends to enter a partnership to benefit teachers as well as pupils.
The New Times reports Arbodela made the announcement after meeting with President Paul Kagame after the just concluded Transform Africa Summit where they discussed the progress of the project in the country.
"The program should be labeled One Laptop Per Child and Teacher because the first person that should have these laptops is the teacher, otherwise they cannot pass on the elements," said Arboleda.
He said extending the project to teachers will help to achieve a complete eco-system of learning, maximising the success the project has had so far.
"To date, we already have 220,000 laptops in place in Rwanda, 42,000 others are on the way and we are now considering with government, a five year plan to expand the project. The idea we have with the president is making Rwanda a One Laptop Per Child country soon," he said.
He said his organisation is working towards contributing to the dream and vision of making Rwanda the transformational hub of Africa in terms of participating in the digital age economies.
"We need to create wealth in the 21st century and that wealth is called, intellectual property, patents, inventions, creativity and exploration. Rwanda has the best possible opportunity to make this happen."