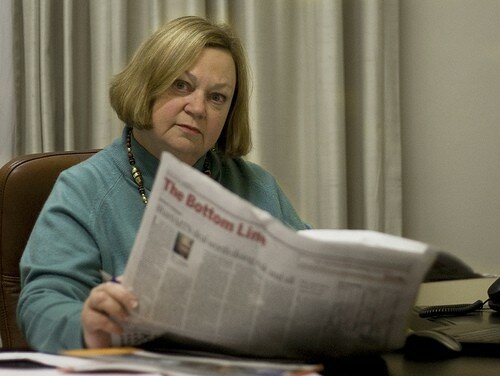 Marian Shinn. Image courtesy of The Democratic Alliance.
Marian Shinn, the Democratic Alliance's (DA) shadow communications minister, has accused the South African Broadcasting Corporation (SABC) of bypassing government policy by adandoning the need for an access control system for set-top boxes.
HumanIPO reported last week the public broadcaster had decided its set-top boxes, a vital component of the country's need to meet a June 2015 digital migration target, would be free-to-air and not conditional.
Shinn however has described the move as "unacceptable" since the cabinet has yet to report its own digital migration policy and outline the need for an access control system.
"Minister Carrim told media last week that he would soon present to Cabinet his department's recommendations on the digital migration policy review started by his predecessor," Shinn said.
"Part of this review was to determine the need for an access control system on the set-top boxes which is needed to view its programmes once digital broadcasting is switched on."
In July, the SABC signed an agreement with MultiChoice to broadcast its 24-hour news channel on its digital platform once the migration takes place.
Shinn said there is a clause in that contract which states should SABC's free-to-air channels be made available on SABC DTT platform on an encrypted basis, then MultiChoice withhold the ZAR553 million (US$54.4 million) payable to the broadcaster.
Shinn said that deal should never have been signed while the policy review was still underway and has requested communications minister Yunus Carrim explain how this had happened.
"The DA will push for answers from Minister Carrim who is due before the Portfolio Committee on Tuesday to discuss the progress with the priorities he set himself on taking office," said Shinn.
"Minister Carrim must explain how this situation has evolved and the financial and reputational risks that the government is now exposed to.
"The Minister must also account for the credibility blow this has delivered to the government's strategy to boost the electronics industry's capabilities through producing STBs with access control systems."